What Can Bard GPS Students Expect From Their Internships?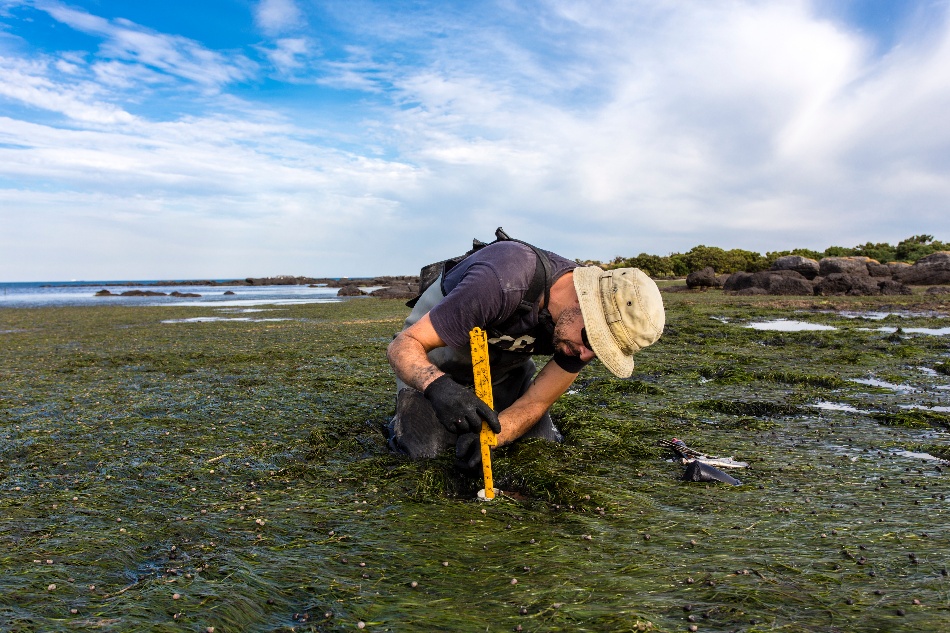 At Bard Graduate Programs in Sustainability, hands-on, intensive internships are baked into our DNA. In fact, our MS and MEd degrees are the only programs in the US that require four- to six-month high-level professional internships. This highly experiential education engages students to put what they've learned into action.
Internships in sustainability are also how our students get the experience they need to break into the sustainability field. Many of our students can trace their success back to their internship placements, where they were able to jumpstart their careers. Each year, between 30-50 percent of our internships lead directly to jobs.
So, what should you expect from your internship experience as a Bard GPS student? How will our program help you change minds, change the rules, and change the game? Read on to find out.
Request more information about Bard GPS>>
Internships in Sustainability at the
Center for Environmental Policy
When it comes to CEP, our master's programs are small by design. Unlike other graduate programs, Bard students benefit from individualized engagement with many 1:1 meetings with faculty. Professors and advisors modify their approach based on each student's motivations, helping to highlight internships that align with their unique skill sets and passions.
Throughout your first year at Bard, you can expect intentional, invigorating courses that directly prepare you for your internship and capstone.
How the CEP Internship Experience Works
Let's cover the basics:
The when: From June through January of your second year, you'll spend 4-6 months at a professional location (i.e., your internship!).


The how: Your advisor and professors will work with you to determine where you would work best. Starting from your first semester at Bard, you'll be working closely with experts in the field to determine your options.
The where: Internship partnerships through Bard are located all around the world! You could find yourself working in Mexico, China, Australia, Washington D.C, or New York.
The who: Bard boasts a wide network of influential partners in both the business sphere and throughout nongovernmental organizations and private companies. Our list of partners can be specific to the program you choose, or you might partner with one of the organizations that works with multiple programs within our college.


The why: If you need the extra incentive, here it is—on average, 30%-50% of our internships lead to job offers from the companies students have been interning with. Even if you don't get that coveted offer, 75%-85% of Bard graduate students are employed in the sustainability field within six months of graduating.
Stories from CEP Internships

Nick Martin, '18 — M.S. in Environmental Policy
Research InternDevelopment Alternatives, 📍India
Nick Martin graduated with a degree in Environmental policy, and he credits Bard's internship program with helping him develop his professional and personal skills. He interned both at the World Resources Institute in Washington D.C. and in New Delhi, India at Developmental Alternatives.



Jessica LeClair, '12 — M.S. in Climate Science and Policy
Arctic/Renewable Energy Intern, Northern Alaska Environmental Center, 📍Alaska
Jessica had an "invaluable experience" at Bard, learning how to make decisions that would directly impact her local and global community. She feels that "Bard CEP puts graduates out in front of the curve".


Patricia Hanna, '23 — M.S. in Climate Science and Policy
Graduate Intern Office of Sustainability,
Bard College 📍New York
Patricia knew she wanted to stay local and get involved in the legislative field of climate policy. Bard faculty and staff helped connect her with alumni in the area, and one of Patricia's emails back in October of her first year landed her a second-year internship. Her advice?
"Start early and use Bard CEP staff and faculty as a resource. So many of them know who's in this space or have connections all over the world. They are able to point you in the right direction."

Jae, '23 — M.Ed. in Environmental Education
Youth Environmental Advocates Program Developer, Mbis Bin Semilla para la Siembra AC 📍Mexico
Jae shared this about how they felt regarding faculty involvement in the internship process:
"One of the great things about Bard's approach is that I always felt supported but I never felt crowded. We received excellent training in writing resumes and cover letters as well as in navigating interviews with confidence. We were expected to take personal responsibility for finding a position and ask for help if we needed it."
Choosing a sustainability internship
When looking for an internship, you should first narrow down which particular area around climate change and sustainability most interests you. While all our sustainability programs follow the same model, for the most part, there is a bit of variation in their key focuses and the organizations with which they partner.
Our focus for each program (and thus the corresponding internships) can be summarized like this:
Consider what field of sustainability you'd want to impact. Then, consider if you'd rather stay local or go work abroad for your internship. Your professors and advisors at CEP can put you in touch with the right people and help you choose the right internship.
Master of Science in Environmental Policy
"Changing the rules" in the environmental world means challenging current norms and rewriting laws and policies to work towards a more sustainable future. Students who choose this program can expect to begin making a tangible impact in their field in only 9 months of study. The M.S. in Environmental Policy includes a six-month professional internship, faculty-mentored research, and a community committed to learning and growth.
The internship for this program occurs in your second year of study, and this placement generally helps you narrow down your topic for your capstone project. Alumni of this program have interned at a variety of locations, including:
American Museum of Natural History

Ecological Institute (Germany)
A key experience within this program is the trip to Oaxaca, Mexico during a student's first year of study. During the 10-day immersive study, students will work on sustainable development initiatives within the community. Students also spend time in local community groups around Bard's campus to address water contamination issues.
Bard partners with the Peace Corps through this and other sustainability programs, allowing students to combine their pursuit of a degree with service within the Corps.
Career opportunities after this program include jobs in environmental policy analysis, policy advisers, and many more chances to impact real change locally and globally.
Master of Science in Climate Science and Policy
Like the MS in Environmental Policy, the Masters of Science in Climate Science and Policy offers internship partnerships at global and local companies. This degree also allows space for time with the Peace Corps while still actively pursuing your degree.
Students from this program have interned at:
The Nature Conservancy
World Health Organization (Germany)
Center for Disease Control and Prevention
For more information from alumni who have completed this program, watch the video below.

Master of Education in Environmental Education
If you want to work within the business of "changing the minds" when it comes to environmental practices both personally and globally, consider a Master of Education in Environmental Education from Bard. This program prepares educators to teach environmental literacy and to engage students in steps towards a more sustainable future.
The program consists of two semesters of intensive classes, then a 4-6 month internship, followed by a capstone project. The academic training you receive within your first year includes environmental education classes from the Center for Environmental Policy and from the Master of Arts in Teaching program. You will also travel with your cohort and put your knowledge into action with our hands-on nature trips. Throughout the whole program, we place an emphasis on applying what you learn in your classroom to the environment you live in, from your own backyard to across the world.
Year two of your program is where your internship comes in. You will spend 4-6 months at your placement, then write your capstone in the second half of your second year. M.Ed. students at Bard also spend two, one-week residencies at Bard throughout their last year in the program in order to finish their capstone.
Our internships range from working in local community groups to getting practical experience teaching environmental practices to K-12 students. We have locations globally, from Alaska to Thailand, or right in your own backyard. Some of our past partnerships have included:
Environmental Protection Agency (EPA)
If you're looking for practical ways to train up the next generation of environmental activists and green warriors, consider this program! You don't have to just teach after your degree; there are a variety of positions you can hold with this type of education. The edge that a master's degree gives you will help you bypass entry-level jobs and get into positions of more impactful change sooner.
Here are just some of the many creative ways you can apply your degree in the real world:
Work for environmental nonprofits
Develop curriculums for schools to teach children about conservation and sustainability
Teach adolescents about the outdoors through education facilities and camps
What about after my program?
Careers in both the nonprofit and academic sectors are attainable for Bard graduates. It is possible to pursue roles in
Education coordination
Environmental non-profit leadership
Parks and Recreation
40% of Bard students are employed before they even graduate, and 75%-85% of students receive jobs in their field of study within six months of graduation. Built into the core of each of our programs are professional development classes. Here, you'll learn how to craft effective resumes, gain interview skills, and have a network of professionals who will help you each step of the way.
Want even more information about where a graduate degree in sustainability from Bard can get you? Download our Crash Course to Sustainable Development today!