Is a Master's in Sustainability Worth It?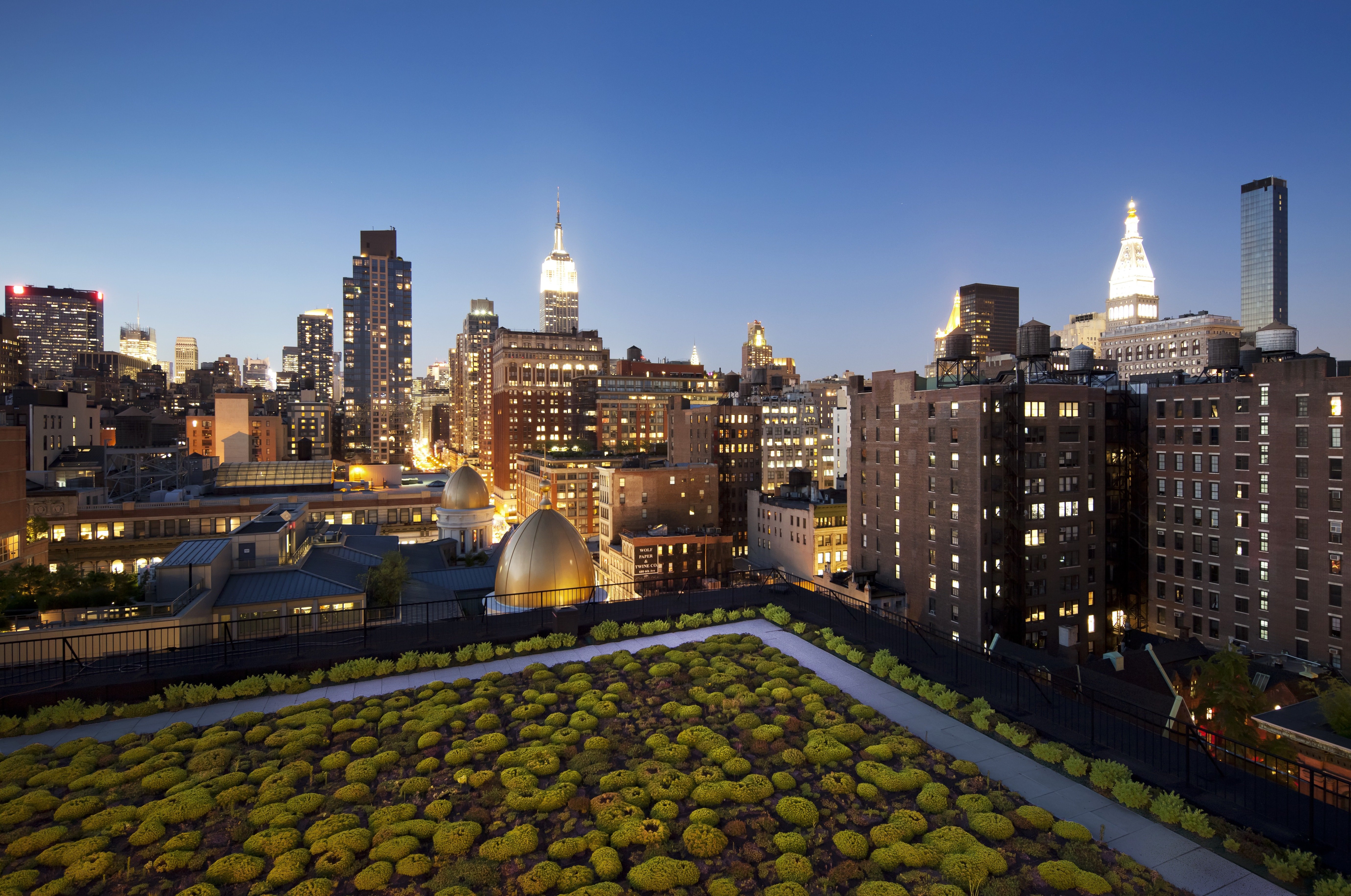 You're passionate about environmental activism and stopping climate change. You want to right environmental justice wrongs. You believe in sustainable development as the only way to ensure our planet is habitable for the next generation. And you don't just want a job: you want a job with purpose.
What's your next step? Entry-level work is available with a bachelor's degree and some experience; you can get started working in environmental or climate policy, green business, or sustainability education. But if you are looking for a career and a leadership role, then a master's degree can be a good investment.
To meet the looming threat of climate change, sustainability programs have been created all over the country to give people the tools they need to defeat it. The best sustainability masters programs will give you the mix of academic training, real-world experience, and career development you need to get you into a mission-focused job changing the world at scale.
What is a master's in sustainability?
A master's degree in sustainability can take many forms: Master of Arts, Master of Science, MBA, and Master of Education. A good starting place begins with your own theory of change: do you want to change minds through education? Change the rules through politics and policy? Or change the game, through business? Once you know your direction, this narrows down your search.
Sustainability as a master's field of study really launched in the early 2000s, along with the sustainability revolution in business. Today, as governments at all levels pass climate laws, corporations seek ways to deliver on net zero and circularity commitments. Both consumers and employees have begun to expect climate action from businesses, and employment in green fields is skyrocketing. This has led to a boom in sustainability programs.
Because sustainability careers are growing fast, there is a lot of opportunity coming out of these programs. One recent student, Emma, a school teacher, came to Bard's #1 Green MBA to learn about impact finance. Four years later she has recently become a VP for Climate Transition Financing at a major international bank.
Is a sustainability degree worth it?
A master's in sustainability, like the ones offered at Bard's Graduate Programs in Sustainability, requires an investment of time, energy, and money. How would you measure the worth? As sustainability has become more established as an area of expertise, increasingly a Master's degree is needed to support career development and the higher salaries that come with leadership positions.
Career growth correlates with impact. There is a lot of work to do, and we need people like you trained to be as effective as possible as soon as possible, tackling issues like climate change, water pollution, gender equity, and affordable housing.
Perhaps the biggest payoff of attending one of the best sustainable development masters programs is peer learning and growing your network. Half of what you learn in graduate school comes from interacting with fellow students on the same journey. Spending two or three years in close company with leading sustainability faculty and professionals, and students with the same passion that you share, is both fun and rewarding. It pushes you to be ambitious, and the connections you make support your work for a lifetime.
Bard's Sustainability MBA
The MBA in Sustainability by the numbers:
Of the students entering the MBA program, 72% started the program making less than $70k

After earning their MBA, 98% reported making more than $70k

37% of alumni make between $70k and $99k

30% of alumni make between $100k and $129k

31% of alumni make more than $130k

The average salary increase post-MBA is $50k

86% of alumni reported an increase in job fulfillment

Job placement rates


60% had a job within 3 months of graduating
71% had a job within 6 months of graduating

79% of alumni achieved the career goal they set for earning their MBA
Bard's MS programs in Environmental Policy and Climate Science and Policy
The programs in the Center for Environmental Policy by the numbers: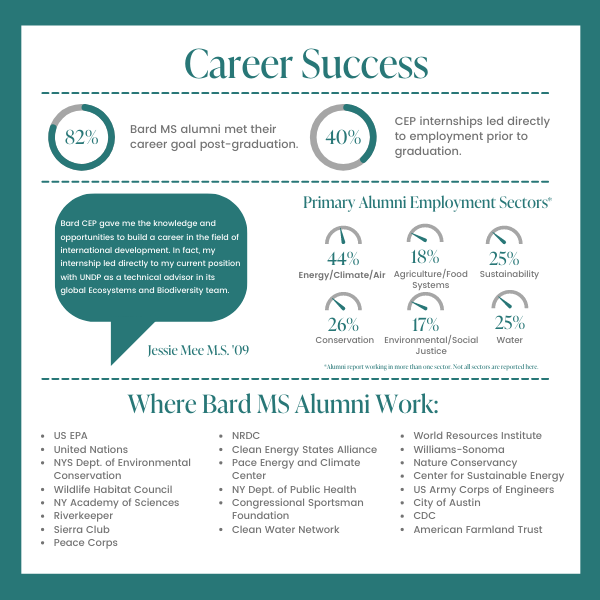 How to get into sustainability — and why a degree is important
Laura Gitman, a well-known sustainability consultant, says that today she would not have hired the person she was when she first got into the industry 20 years ago. Back then, knowing about consulting—plus being mission oriented—was good enough. But now, Laura looks for people with deep subject matter expertise in both sustainability and industry focus, the knowledge that's often only gained through sustainability masters programs.
Good graduate sustainability programs deliver three things it's hard to get elsewhere: specific knowledge and skills, real-world experience with leading practitioners and brands to build your resume, and career development. These are key factors that translate into success in the job market.
Sustainability jobs can take many forms: entrepreneurs, educators, policy analysts, intrapreneurs, consultants, in-house sustainability professionals, and people with ordinary-sounding jobs who bring sustainability to bear on the work they are doing. Advancing in whichever branch of the industry you are interested in requires a solid career strategy and network. The best sustainability masters programs will provide this.
From business to policy to education, sustainability jobs are the jobs of the future. Twenty years ago, sustainability jobs did not exist. Five years ago, the position of Chief Sustainability Officer appeared. Our favorite recent job title from one of our sustainability masters graduates is "Designer of Circular Acumen and Capability" on the responsible design team of a major retailer. What's next? Maybe the position of Chief Circularity Officer is coming? It could have your name on it.
The impact you'll make with a master's degree in sustainability
The scarcest resource on the planet is you: someone awake to the extraordinary moment in which we are living, who wants to put their skills and talents to work building a better future. The good news is that you don't need a master's degree to get started. But if you do want to make this your life's work, then a master's in sustainability can launch you on a strong start. Put simply: the world can't wait.
So, is a master's in sustainability worth it?
For aspiring sustainability leaders, yes—and especially the masters degrees offered at Bard College. Bard's Graduate Programs in Sustainability offer master's degrees in sustainability for graduates who want to:
Bard's MBA has been ranked the #1 Green MBA three years in a row, from 2021 to 2023, and #2 among all MBAs for Non-Profit Management in 2023 by the Princeton Review.
With a focus on resume-building experiential education– extended professional internships in sustainability and high-level consulting opportunities– Bard's graduate programs combine rigorous academic training with a powerful career advising process that accelerates your sustainability journey to impact-driven work.
If you would like to learn more about the Bard MBA in Sustainability, download our free resource,
A Career Guide to Jobs in Sustainability.