Experience is Key to "Mastering" a Career in Sustainability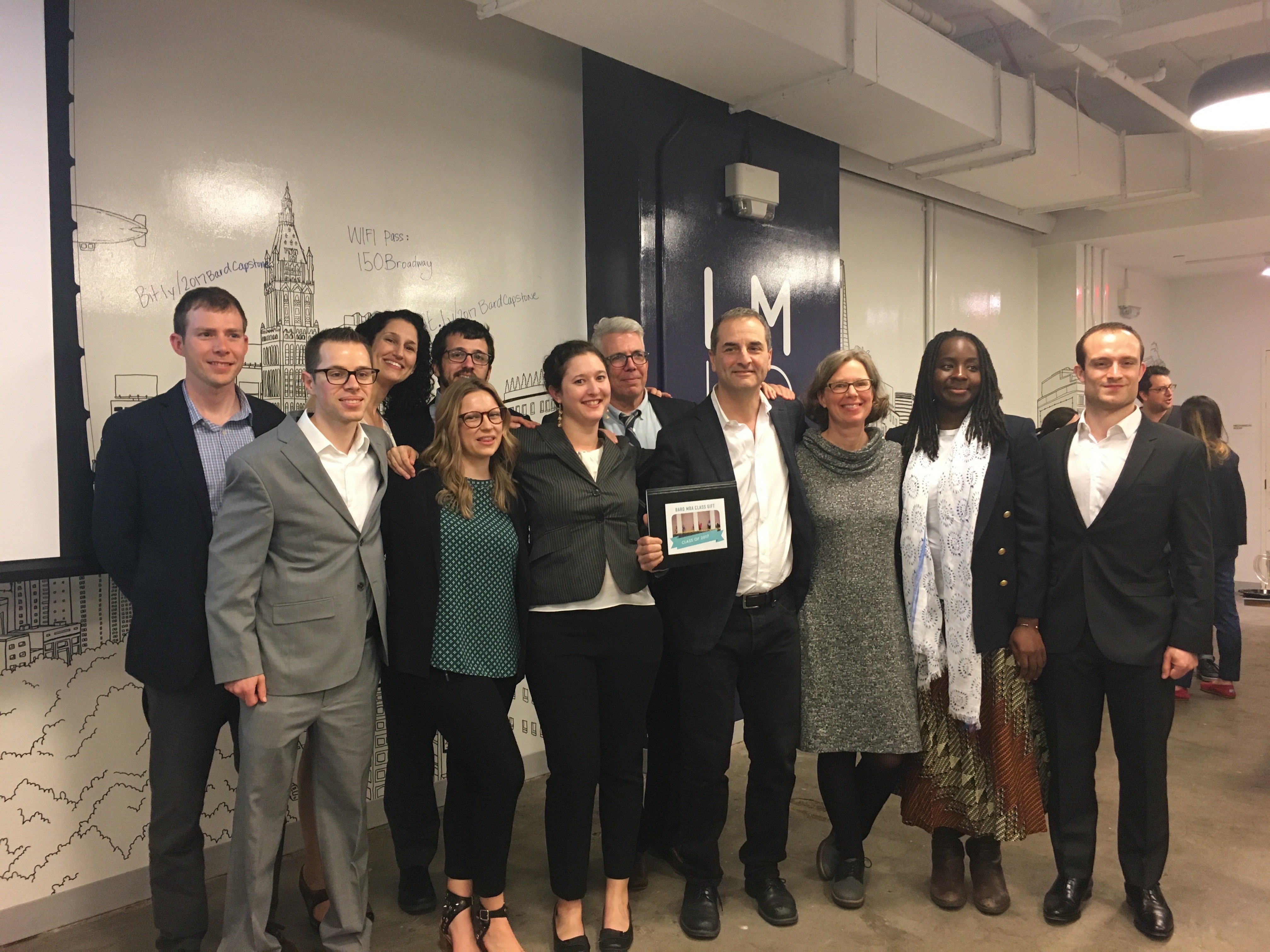 Sustainability is a problem-solving discipline. In the business world, this means, how do I see profitable opportunities where other people see social and environmental costs? How can I get other people on board to pursue these opportunities? And how does your team do the business blocking and tackling needed to deliver on sustainable ideas?
In Bard's MBA in Sustainability, these three core concepts—sustainability vision, leadership, and business execution— are the heart of what we teach. So, how do we teach it? Experience is key.
NYCLab
Starting from their first day in the program, the Bard MBA throws our students into the deep end of the experiential learning pool. First year students enroll in NYCLab, a two-semester, six-credit consultancy in which student teams address real world sustainability challenges. Recent clients have included Etsy, Jet Blue, Siemens Wind, Con Edison Solutions, Eileen Fisher, Unilever, Clif Bar, and Lockheed Martin.
No other MBA in the world offers a year-long consulting class in the first year. Careful faculty mentoring and accompanying classroom instruction and mentoring ensure that the quality of the student consulting is high, and in all cases, clients report receiving significant value from the student deliverables. This unique course grounds the students' education from day one in real world experience and allows Bard MBA students to begin impactful careers when they begin business school.
Mentored Capstone
In their final year, Bard MBA students complete a two-semester, nine-credit, individually mentored capstone project. The capstone sequence supports students in gaining mastery in their chosen subfields of business. Capstones can take one of three forms: Expertise Enhancement, Entrepreneuring or Consulting. In the first of these, students pursue a deep immersion into management best practices in an area of interest, and typically undertake an internship of ten hours per week. Students may also pursue an "internship" within the company for which they are currently working to develop expertise in a new area, or pursue an internal career move. In the Entrepreneurial track, students drive individual or team start ups. In the Consulting track, student teams master the skills they began to learn in NYCLab by running their own consulting firm.
Individually mentored capstones are increasingly rare in MBA programs as they require significant faculty commitment and administrative oversight. At Bard we believe that a key function of a masters degree is to ensure students develop "mastery" over their sub-field of interest in management. This can only be ensured through an individual capstone experience.
Ongoing: Engagement with Professionals
Through NYCLab and Capstone, almost a quarter of the Bard MBA curriculum is devoted explicitly to experiential education. But throughout the program, we connect students to sustainability professionals in a number of ways, including:

Each student is assigned a mentor in their chosen subfield.

Students interview their sustainability heroines and heroes as part

of The Impact Report,

Bard's student-run podcast. Transcripts of

the interviews are published on Greenbiz.com.

Students are exposed to a constant flow of industry guest speakers in their classes, sharing the latest in sustainability thinking and practice.
Bard stresses real world experience as a critical part of our masters program, because sustainability vision, leadership and business execution cannot be taught in the abstract. Why study accounting, marketing, strategy and operations? NYCLab and engagement with sustainability professionals provides students with the practical "hooks" they need on which they can hang their academic studies.
Just as importantly, these experiences are the apprenticeships students need to learn to solve real-world sustainability problems. They also build the resumes that employers are looking for from a graduate who is claiming "Master's" level expertise in sustainable business.
Are you considering pursuing an advanced degree in sustainability?

Learn more about Bard's Graduate Programs in Sustainability by attending one of our events!