Prediction: Big Win for the Environment at This Year's Super Bowl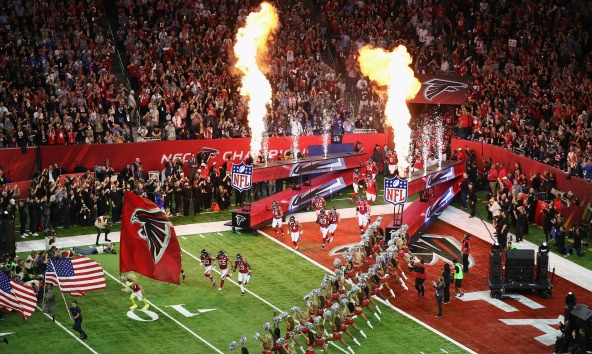 Even if you don't care about football, this might be your year to support the Super Bowl.
The Eagles and Patriots aren't the only possible winners of this Sunday's big match up. Thanks to an ambitious collaborative effort between the NFL, PepsiCo, Aramark, and U.S. Bank Stadium in Minnesota, Super Bowl LII is aiming to recover 90% (more than 40 tons) of the waste produced by the crowds at the game, a win for environmental and sustainable efforts.
This weekend, when 66,000 people flood into the stadium ready to consume popcorn, hot dogs, nachos, burgers, and beer, they'll encounter sustainable packaging for their food items and volunteers and revamped tri-bin systems that help them understand where each waste item should be deposited. There are also plans in place to take the leftover bulk food items and distribute them to local community shelters and food banks.
Usually these 40+ tons of waste end up in local landfills after the excess and dazzle of the big event are over. This year's initiative, known as Rush2Recycle, is hoping to change the national conversation about how our massive public events handle waste and show that movement toward a zero-waste mentality and sustainability is possible.
Obviously these zero-waste efforts are only a first step in the right direction. There is still much progress that needs to be made to reduce the carbon footprint and climate harm that major entities like the NFL cause. But the NFL has shown an increasing interest in examining carefully its environmental impact and encouraging individual teams and stadiums to do the same.
For many environmentalists and sustainability leaders, the NFL may seem like an unlikely ally. Often associated with the forces in American culture that resist environmental protections and plagued by issues of sexism and racism, the NFL and the new greener Super Bowl is an example of a cultural paradox.
How should environmentalists and sustainability leaders react then?
In our fight to save the planet, businesses can be a powerful and important force for good. It's important that we celebrate the positive that's occurring where we see it, and challenge more and more major businesses and organizations to re-evaluate their practices across the board as we work to fight climate change and help the earth heal.
As we encourage existing businesses to change their practices, it's also crucial that we support the young entrepreneurs who want to make careers in sustainability and start businesses that exist to solve social and environmental problems, where care of the community and an awareness of impact is baked into the business plan and not just an afterthought.
The next wave of sustainable business leaders will serve as quarterbacks in the economy of the future, rallying their teams to tackle environmental challenges and seeing opportunity in the most difficult moments.
This year's Super Bowl is just the beginning.
Check out our newly updated podcast, The Impact Report and be sure to subscribe to continue to stay in the loop on our latest conversations with sustainable business leaders.