Beyond Profit: What Tomorrow's CEOs Need to Know About the Future of Business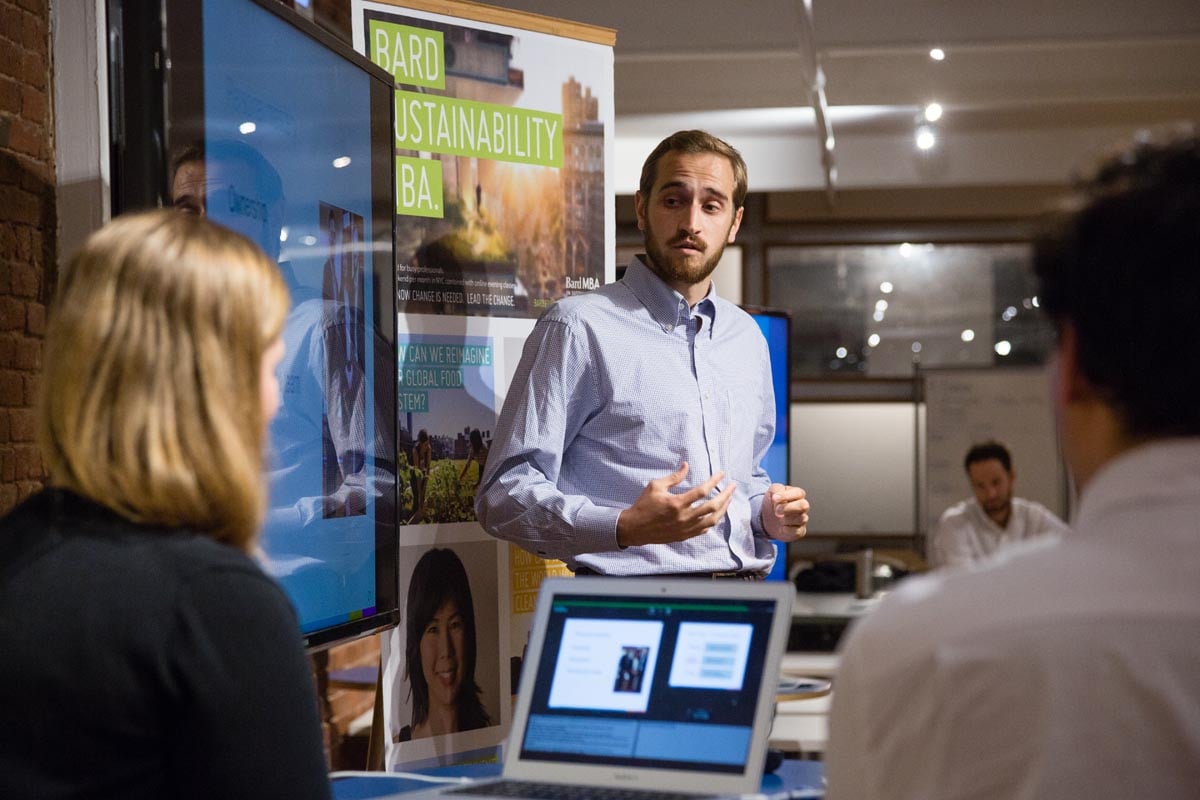 Walk out of our MBA classroom in downtown Manhattan, and you can see big signs that sustainability is sexy — literally, big signs — Vornado: NYC's Most Sustainable Landlord, and Sprint: Environmental Stewardship/ Ethical Sourcing.
Business sustainability has come a long way very quickly. In an era of transparent supply chains, IT- enabled local production, expanded entrepreneurial opportunities, megacity growth, climate change, water shortages, and millennial demands for meaningful work, it is not going away. More and more large companies are competing on sustainability because it is now understood there is a competitive and reputational advantage to sustainable business.
Competitive Advantage: A New Generation of Consumers Demand Sustainable Business Strategies
Truthfully, the population's growing concern for long-term sustainable development is a large part of why businesses are becoming more mindful about integrating sustainability throughout their current business models. Data from the 2015 Nielson annual Global Corporate Sustainability Report revealed that 66 percent of consumers would rather spend more on a product produced by a sustainable brand than a product that was traditionally manufactured by a cheaper brand — that's over half of consumers! Furthermore, Nielson data showed that 73 percent of millennials are willing to pay the higher price of sustainably manufactured goods.
Why it Matters: Millennials are now the largest generation working in today's industries. They not only think differently in terms of business operations, but they also think differently in terms of how they spend their money. Millenials refuse to participate in, or support, organizations without a passion and purpose beyond making money — this generation is obsessed with personal fulfillment and the big picture — the companies that don't accommodate this generation of activists are going to fall behind.

Reputational Advantage: Brand Stories that Embrace the Future of Business Industries


In a world where consumers are readily informed, brand image is more important today than ever before. Why? Because brands radiate a personality that consumers crave. Brand is a company's reputation, and while a variety of consumers may practice brand loyalty, the Huffpost revealed that 94 percent of consumers will switch brands to support a cause.

— Even greater — Sustainable Brands reported that "81 percent of consumers say they will make personal sacrifices to address social, environmental issues."
Why it Matters: Brands have the power to communicate a positive reputation and build an authentic relationship with their consumers. Forbes states that "brands are psychology and science brought together as a promise mark as opposed to a trademark." In a world dominated by millennial culture, brand promise makes impact. Brand is so powerful that Forbes goes on to explain how companies are starting to put "the value of their brand on their balance sheet."
Company Spotlight: Patagonia as an Example of a Sustainable Brand


Patagonia was founded in 1973 by a true outdoorsman: Yvon Chouinard. His love for climbing and the outdoors escalated into a lifelong passion of giving back to the environment through a sustainable business.
The company practices an integrated bottom line philosophy — when doing the right thing for the planet does the right thing for people, and doing the right thing for people does the right thing for profit (and vice versa). For example, let's take a closer look inside the company:
But what makes Patagonia a great example of sustainability through business leadership and innovation? Simply put — the Patagonia brand understands that a company that neglects mindful business decisions, work-life balance, and environmental efficiency is not going to reap the return of long-term value.
Why it Matters: Rather than being easily intimidated by the responsibility and time commitment required by sustainable change, Patagonia demonstrates how this reform is an opportunity to promote innovation tactics that yield a greater return on investment (ROI) and increase competitive advantage.
Sustainable practices improve operational efficiency and product design, create greater employee engagement and productivity, provide strategic advantage, and ultimately, enhance customer loyalty.

Traditional MBA's are Dying: How a Sustainable MBA Can Help You Make a Difference
In response to sustainable trends such as millennial-consumer demands, most MBAs have added a course or two in sustainability, yet 90 percent of what they teach is still single-bottom line, make-as-much-money-as-you-can (without breaking too many laws) type of business ideology.
In contrast, Bard is revamping what it means to have an advanced degree by building a graduate business curriculum that bakes sustainability in from the ground up. Bard's mission is to educate leaders to grow mission-driven businesses and non-profits and to transform existing organizations to a focus on social and environmental purpose. Through the success of our community, we transform business education — and business — globally.
To fulfill its mission, Bard's MBA in Sustainability program offers the best possible academic training, real world experiences, and career development opportunities that, together, enable graduate business students to follow their passions and pursue successful, high-impact careers in sustainable business.
Interested in knowing more about the changing business landscape, Bard's MBA in Sustainability program, and advancing your impact career in the world of mission-driven business? Contact an admissions counselor for more information!
Are you ready to help lead the change? Download our Career Guide to Jobs in Sustainability: Ideas, Resources, and Opportunities for Career with Impact