Bard MBA Featured in Two New Reports on Sustainability Education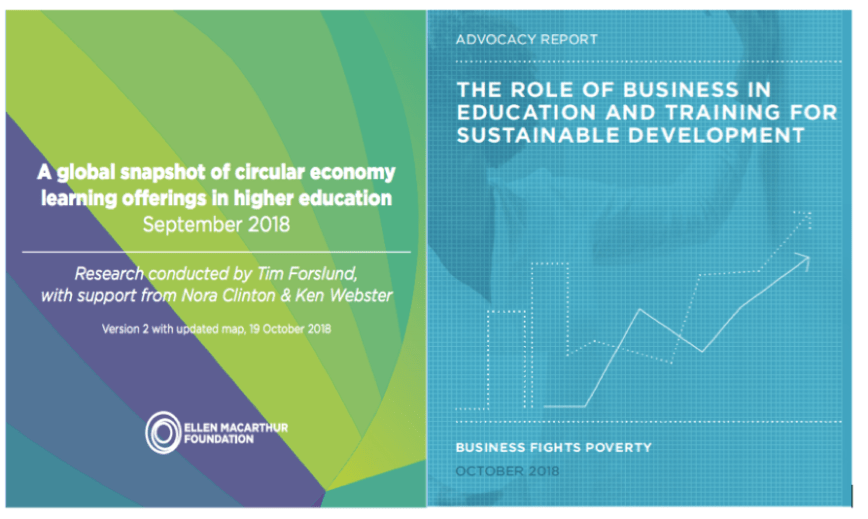 The Bard MBA in Sustainability's innovative graduate degree has been recognized in two major new reports, one focused on education to advance a "circular economy", and the second on business and sustainable development.
The first report, published by the Ellen MacArthur Foundation, is titled A Global Snapshot of Circular Economy Learnings in Higher Education. Circular economy approaches focus on designing waste and pollution out of production processes; keeping products and materials in use; and regenerating natural systems. Bard is acknowledged as one of only five educational programs in the United States offering explicit course-work focused on circular economy— along with Columbia, Harvard, Stanford, and the University of California at Santa Barbara. In fact, Bard this year launched the first graduate focus area in circular economy within an MBA program in the US.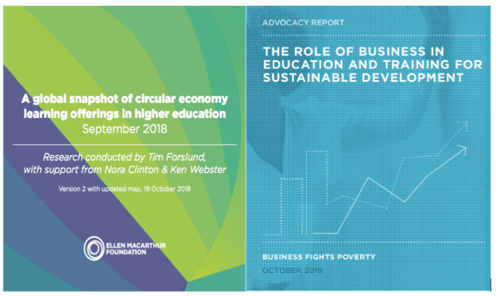 The second report, The Role of Business in Education for Sustainable Development, highlights the Bard MBA in a pairing along with Arizona State's Executive Master of Sustainability Leadership Program. Bard is recognized for demanding "a comprehensive business literacy from participants, emphasizing that the sources of sustainable business advantage are found not just in operations, in strategy, in marketing or in employee engagement, but rather throughout the business. [The program] emphasizes how to apply the tools learned to building a mission driven business, and how to execute strategies to bring sustainability visions to life."
The report is published by a consortium including the UN PRME (Principles of Sustainable Management). Contributors including Starbucks, Levi's, and Credit Suisse show how "business is investing in
developing future leaders, and engaging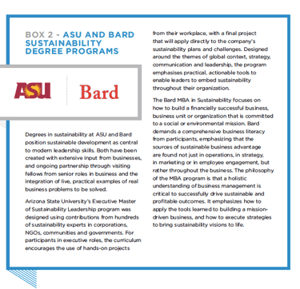 employees through shared solutions for business and society. Short case examples [including Bard] describe how these and other organizations are contributing to educational content and experiential learning, increasing employees' skills and knowledge, and partnering with community stakeholders."
Bard's MBA in Sustainability, based in NYC, is one of the top graduate business programs globally that fully integrates a focus on mission-driven business and sustainability into a core MBA. The program is offered in a low-residency, one- extended-weekend per month plus online format.
We invite you explore our digital resource to think deeply about how an

MBA in Sustainability could transform your future.