3 Ways You Can Help Advance Sustainable Development Goals Today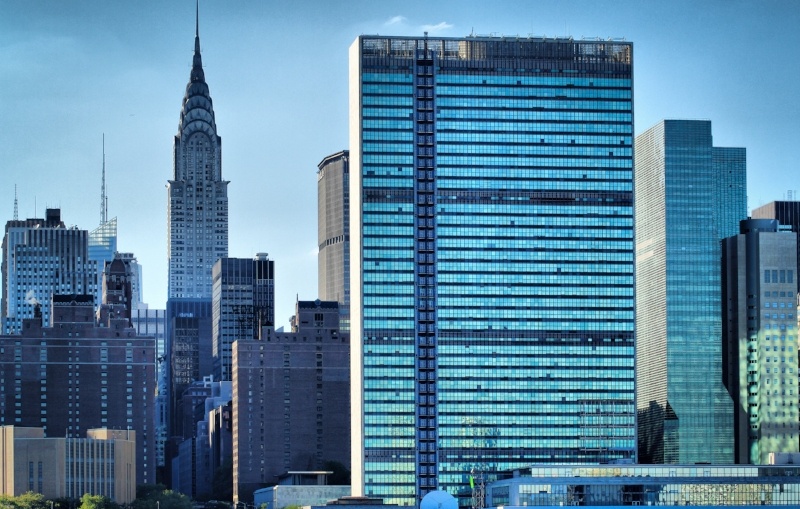 We all know our world needs to be a better place. Each of us can point to concrete areas that demand immediate improvement. But have you ever found yourself trying to describe the problems at hand to someone, and feeling completely overwhelmed in the process?
Fortunately, organizations like the United Nations have clearly laid out goals for global sustainable development.
If there is one thing the world doesn't need, it's more talk - more words unsupported by concrete steps. So how can you take action? What can you do to take goals like the ones developed by the UN and reframe them to be sustainability goals for individuals? How can you implement them into your life and make a real positive impact? Below are three ways you can improve human life and the planet today.
The United Nations is leading change
In an extraordinary show of solidarity, the United Nations (UN) has identified the most pressing issues facing our world today. In September 2015, at a historic UN summit, the coalition of world leaders outlined 17 Sustainable Development Goals, which took effect on January 1, 2016, with the goal of being accomplished by 2030. These new goals that universally apply to all nations, call on countries to mobilize efforts to end all forms of poverty, fight inequalities, and tackle climate change while ensuring that no one is left behind.
These 17 Sustainable Development Goals (SDG) build on the success of the Millennium Development Goals (MDG), which reached their target completion date in 2015. The new goals are unique in that they call on all countries to participate - whereas the MDG only applied to the developed world.
Let's Take a Look at the UN Sustainable Development Goals:
No Poverty

Zero Hunger

Good Health and Well-being

Quality Education

Gender Equality

Clean Water and Sanitation

Affordable and Clean Energy

Decent Work and Economic Growth

Industry, Innovation, and Infrastructure

Reduced Inequalities

Sustainable Cities and Communities

Responsible Consumption and Production

Climate Action

Life Below Water

Life On Land

Peace, Justice, and Strong Institutions

Partnerships for the Goals
Here's what you can do to support these sustainable goals
Use your voice — end poverty
Current conservative estimates have more than 700 million people living in extreme poverty on less than $1.90 per person, per day. While the majority of these poor live in Southern Asia and sub-Saharan Africa, extreme poverty is not a problem in only underdeveloped countries. Right now there are 30 million children growing up poor in developed nations in the world's richest countries.
The best way to help end poverty once and for all is to use your voice and active engagement to petition policymakers and private industry to prioritize addressing extreme poverty. Extreme poverty ends when the world's poorest are given access to tools such as meaningful jobs, quality education, and affordable healthcare, to name a few. The USAID's Vision for Ending Extreme Poverty names effective governance and accountable institutions as the foundation for inclusive economic growth.
So what can you do? Use your voice - write a letter, email, or pick up the phone and call your congressman. Demand that they work to pass legislation that would take action to end extreme poverty. Organizations such as ONE are leading this charge against poverty, through campaigning and advocacy. One example of an initiative the support is the BUILD Act, in which the federal government would partner with the private sector to help provide the capital necessary to sponsor American entrepreneurs, bringing jobs and economic growth to the world's poorest countries.
Consume responsibly — zero hunger
Extreme hunger and malnutrition remains a barrier to sustainable development and creates a trap from which people cannot easily escape. Worldwide, nearly 800 million people suffer from hunger, the majority of whom are in developing countries. With an expected 2 billion hungry people on the planet by 2050 (that is a staggering 1 in 5), there needs to be a dramatic shift in global food and agriculture systems.
Addressing the needs for food security is paramount, as it is a key piece of building a more sustainable and just future for everyone. Hunger limits human development, which in turn prevents us from reaching the other sustainable development goals such as education, health and gender equality.
How can you fight hunger?
This is one of the more clear-cut sustainability goals for individuals.
First, make changes in your own life and home. When possible, support your local community by purchasing food at farmers markets and make sustainable, nutritious food choices. Fight food waste by only purchasing the food you know you will be able to consume. One great tool (among other ways to reduce household food waste) is meal planning. By taking the time to plan out your meals for the week, then making a list of the necessary groceries you can avoid overbuying - both saving you money and reducing the likelihood of throwing away uneaten food.
Additionally you can use your voice to work for change buy purchasing from sustainable businesses that support and work toward zero hunger. You can also join the Global Movement for Zero Hunger by joining the Zero Hunger Challenge.
Find alternatives — affordable and clean energy
By 2030, the UN's goal is to ensure access to affordable, reliable, sustainable and modern energy for all. Currently 1.2 billion, or 1 in 5 people do not have access to electricity. This setback acts as a constraint on human and economic development. Additionally, energy consumption is the dominant contributor to climate change, accounting for about 60 percent of total global greenhouse gas emissions.
To improve this situation, businesses need to protect ecosystems and commit to sourcing their operational electricity needs from renewable sources. Employers can contribute by reducing the demand for transport by offering telecommuting options and incentives for those using less energy intensive transportation (such as carpools, public transport, bikes, etc…).
At an individual level, you can save electricity by plugging appliances into a power strip and turning them off when not in use. You can reduce your energy consumption and carbon footprint by walking, biking, and ride sharing. Additionally, you can raise awareness and advocate for change through social media platforms.
As an individual and a consumer, there are hundreds of other ways you can work for a better, more just and equitable society, and to meet the Sustainable Development Goals set by the UN. Some are called to go a step further, partnering with and working for organizations such as the United Nations to bring these goals to fruition.
Here's how to encourage people to be sustainable — a graduate degree in sustainability
Doing something like earning a graduate degree in a sustainability-related field can help transform the world. Your graduate degree will help you make a career out of your passion. A program like Bard's MBA in Sustainability can give you the knowledge and skills necessary to make your job application stand out from dozens like it.
If we truly want to advance the Sustainable Development Goals, then the world needs passionate, driven individuals in the various fields of business, who are trained to lead the change in sustainability practices and inspire others to follow. Together, leaders and individuals committed to working for justice, fighting against poverty and inequality, and adopting sustainable practices will bring about the world in which we all want to live.
Work on these issues from a policy or business standpoint.





Bard's Graduate Programs in Sustainability have degrees to prepare you for both fields!