Solve Climate By Acting Locally: Students to Join 52 State-Level Dialogs on April 7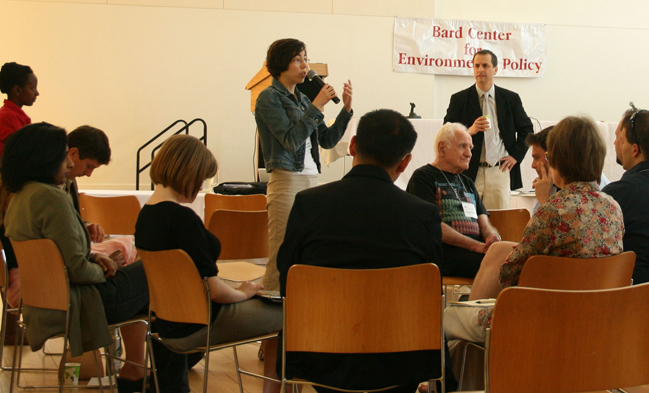 On the evening of Tuesday, April 7, over 100,000 university and high school students across the nation will be tuning into 52 simultaneous, university-hosted state-wide webinars on an issue critical to their future: how ambitious state and local action can put us on the way to solving climate change by 2030. Faculty across the country, and across disciplines, will be assigning these webinars as homework, and using them as a springboard for discussing climate solutions.
Why 2030? Last year, the world's top climate scientists told us we have a ten-year window to make rapid reductions in the carbon pollution causing global warming. If we don't, we will severely destabilize the global climate, leading to extreme weather, droughts, floods and sea-level rise that will be increasingly hard for humans to manage.

Why state and local action? The very good news on climate is that a whole suite of clean energy solutions—from solar to wind to battery storage to electric vehicles— have gotten cheap and are getting cheaper. In many markets, these solutions now cost substantially less then the polluting, fossil fuel alternatives. In Colorado, Idaho, and California, power projects combining utility-scale solar, wind and storage have been crushing natural gas on price.
These powerful cost trends mean that scaling up climate solutions is increasingly about smoothing the paths for adoption, and much of this work needs to happen locally. A glaring example: Florida, the "Sunshine State", has very little solar power. Just across the border, Georgia is a top-10 solar state. What's the difference? Policy driven by civic action and environmental education.
To focus Americans on state and local solutions, the Center for Environmental Policy at Bard College is organizing simultaneous "power dialog" webinars, one in every state in the country, plus Washington, DC and Puerto Rico. On April 7, we will hear from climate solutions experts across the nation about ambitious but feasible actions that have to happen soon in states and cities to get on track to solving climate by 2030. The list of universities hosting the webinars is below. Beyond these institutions, across the country, colleges, universities, high schools, as well as local faith, civic and business groups will host viewings of the webinars and in person discussions of how to get involved in climate solutions.
Faculty at colleges, universities and high schools, across the curriculum, can assign viewing of the webinars live or recorded as homework, and then spend the next class discussing climate solutions. This opportunity is not just for environmental studies classes. The challenges posed by solving climate change necessarily range across history, science, business, culture, economics, psychology, religion, government, media, journalism and the arts. The Solve Climate By 2030 website will offer disciplinary entry points for follow-up discussion to the state-level, solutions-focused webinars.
To stay informed about Solve Climate By 2030, please join the mailing list here. Dr. Eban Goodstein, Director of the Center for Environmental Policy at Bard College who is heading up the project, emphasizes the extraordinary moment in which we are living, and what that means for educators. "The scientific community has made it clear. The actions we take or don't take over the next ten years will have a deep and profound impact on the lives of human beings for the next thousand generations. It is our obligation to ensure our students understand the stakes."
University Leads for Solve Climate By 2030, 12-20-19:
Alabama

Alaska

Arizona

U. Arkansas

California

Colorado

Connecticut

Delaware

Georgia

Hawaii

Indiana

Iowa

Kentucky

Maine

Michigan

Auburn

University of Alaska Fairbanks

AZ State

CSU Chico

CU Boulder

UConn

U Delaware

GA Tech

Kapiolani CC/UH

IU-Bloomington

Iowa State

Louisville

U of ME

MI State

Nevada

New York

North Carolina

Ohio

Oregon

Pennsylvania

Rhode Island

South Carolina

Tennessee

Texas

Utah

Vermont

Virginia

Wisconsin

Nevada EPSCoR

SUNY Albany

Wake Forest

Ohio State

Willamette

Penn State

Brown

College of Charleston

Sewanee - U of South

Rice

Weber State

Middlebury

George Mason

UW Eau Claire
Are you passionate about the environment as a whole? Explore the field of environmental policy by downloading A Guide to Getting a Master's Degree in Environmental Policy!