Megan Boone On What You Can Do To Help The Planet (Plus Some Blacklist Spoilers)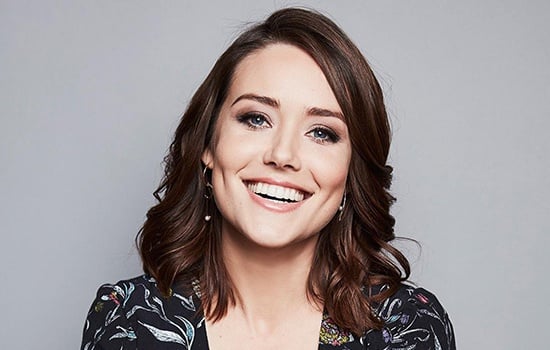 Originally published on Forbes.


Forbes Features Bard MBA Student Megan Boone of NBC's The Blacklist
On January 3rd, The Blacklist premiered on NBC. For all of the show's five seasons Megan Boone has deftly played FMI Agent Liz Keen. And this season she has quite an arc.
When the show premieres we discover that Liz has physically healed from the attack that killed Tom and put her in a coma. We find her living in obscurity under a pseudonym. She has very secluded life with a dog named "Kate." A major storm moves in and she becomes trapped with a group of travelers she doesn't know under very suspect circumstances.
Fans of the show will notice that the episode is titled, "Ruin," rather than the name of the week's blacklister. "The title breaks from our Blacklist formula, because the episode breaks from it," said Boone. "Something very different sets Liz off in a totally new direction for the rest of the season and series."
As committed as Boone is to The Blacklist and Liz, she is also fierce advocate for the environment.
In fact, she is working on getting her MBA in Sustainability at Bard. Plus she is advocating for environmental policy change when she can and investigating ways to create mass market entertainment while in service to our ideal ecosystem. To that end, she created the fundraising project Caroline Agnes. "I have to do my best to alleviate the suffering of my daughter's generation," said Boone, whose daughter Caroline will be two in April. "Motherhood didn't change my mind about this issue so much as made it imperative that I believe in my own power to change earth, in a different way."
Boone answered questions about what people, especially those without financial resources, can do to help the environment. She also offered more insight about The Blacklist and getting her MBA.
Jeryl Brunner: It is inspiring that you are getting an MBA at Bard in environmental sustainability while having a thriving career doing The Blacklist. What motivated you to get your MBA?
Megan Boone: Bard's MBA in Sustainability teaches business from the belief that business is meant to support human society, not destroy it.
I needed to be a part of a community like the one they've created at Bard. It became imperative that I reinvent the world around me and I didn't know how. Yes, I have had a lot of fortune to have reached this level in a highly unlikely career. But every day I went to work, no matter what TV or film production I worked on, I would be contributing to an ecological problem that I felt powerless to fix.
So I started to look for solutions. Was there a way to create jobs for producers, cast and crew members without pushing the planetary boundaries necessary for the survival of human beings on this planet? Bard's MBA in Sustainability has been the most important component in finding answers to this question. And I'm building toward the next phase of my career as an artist from a more conscious and humane perspective.
Brunner: What do you believe is the most important thing to know about climate change?
Boone: Climate Change has the potential to end human civilization as we know it and it has already taken many, many lives. We rely on the intricate balance of our ecosystem to survive. There are building blocks to our ecosystem that once undone we will not have the power to recover. This challenge has the potential to make us more empathetic, service-oriented and humble as a species.
It will take generations of our species. We will have to reinvent economic theory, trade, transportation, culture, justice systems, architecture, women's rights, policy. Thankfully there are a lot of people in all sectors of society all around the world working toward a sustainable life for humans on this planet.
Brunner: What are some of the most important qualities you would you like to teach your daughter?
Boone: I hope I can help her to avoid believing that the world's expectations of her are what define her. At a very young age girls get a clear idea of what being a girl is supposed to mean, and that idea can be very limiting. That limitation is something that I still struggle with. And I hope I can at least give her fair warning so she isn't fooled.
Brunner: The Blacklist is about to air its 100th episode on January 17th. Can you share any teasers?
Boone: Nathan Lane stars, thank God. What a monster talent. Red is up to his reliably delightful, albeit evil, ways. And Liz takes up studying and replicating one of the most brutal methods of any blacklister in our show's history on her road to avenging Tom's death.
Brunner: How will the circumstances of Tom's death affect Liz's relationship with Red?
Boone: I don't know the answer to this yet, because it's a season long mystery. The discovery of what those bones mean to Liz and Red will ultimately put Tom's death into a clear context. It will further define the Red/Liz relationship.
Brunner: Do you know who the bones in the suitcase belong to?
Boone: I do not.
Brunner: How do you see that Liz has changed over the years?
Boone: She is capable now. Early in the series Liz's strongest quality was that she was persistent. She was deceived often, but kept at it. She always went back to Red or Tom and burrowed down deeper into their lives, and put them right at the center of her own life in order to find answers she felt she needed. She's a bit more torched earth about getting what she needs now.
Brunner: What qualities do you love about Liz?
Boone: Her best qualities are that she is loyal and dedicated. I hate those qualities for her, though, because they often get in the way of Liz making a more interesting decision or even worse they keep her from taking care of herself. So the quality I actually love is that she does things that are completely surprising every so often.
Brunner: What can you do if you want to help the environment but don't have resources?
Boone: Find a community. Even if it's online. Find other people who share your concerns about our environmental problem and want to help make changes. Mom's Clean Air Force is great and is located all over the United States. But there are many others. Check out my twitter and who I follow because I discover more and more all the time.
Go to NRDC's site Trump Watch to stay informed on what's happening at the federal level so you can call your senators and reps to suggest votes on bills. Pay attention to how your representative votes, and elect good local reps who are progressive with environmental policy.
Buy things in bulk, rather than in packages. Try to incorporate more vegetables into your diet. It's healthy when they're seasonal. It's not as expensive as prepared food and it's a more efficient way of getting energy.
Educate your girls about fertility, sex and birth control. Fight for a women's right to be insured for birth control. The more control women have over their bodies, the lower the birth rate. And highly educated girls have been linked to dips in population growth which is good for the environment.
Are you interested in learning more about Bard's MBA in Sustainability?
Request more information here!