Bard MBA Teams Win Sustainable Finance Competitions (Again)
Bard emerged victorious in Spring 2022 at two US-based MBA case competitions. The team of Ashbel Soto, Emma Chandler and Mike Amoroso won the the Wharton/SOCAP Total Impact Portfolio Challenge (TIPC). This is the second year running for Bard to win, beating other MBA finalists this year from Chicago Booth and Fordham. In addition to delivering a high-return portfolio, the team designed and presented a powerful program for impact reporting designed to engage the students at the client community, a fictional college.
The TIPC win was the second first place trophy for Mike Amoroso in less then a week. Mike's Bard team including Lindsay Moreau, Delicial Nahman and Stephanie Lavallato (pictured above) also won the Intentional Endowment Network's Corporate Engagement Competition. Lindsay, Delicicia and Stephanie in turn were part of the winning TIPC team in 2021: read more below. The veteran engagement clearly paid off.

Finally, a second Bard team was also in the TIPC finals this year. Our suspicion is that the judges did not want to give Bard the #1 and #2 spots, because in our judgement we clearly deserved both. Denise Martin, Hung Tran, Lenny Resiner and Hector Aguirre did a terrific job, with an innovative proposal focused on measuring impact.

Thanks also to all the professors, current students and alums who advised our finalist teams. In 2023, Bard will go for the three-peat!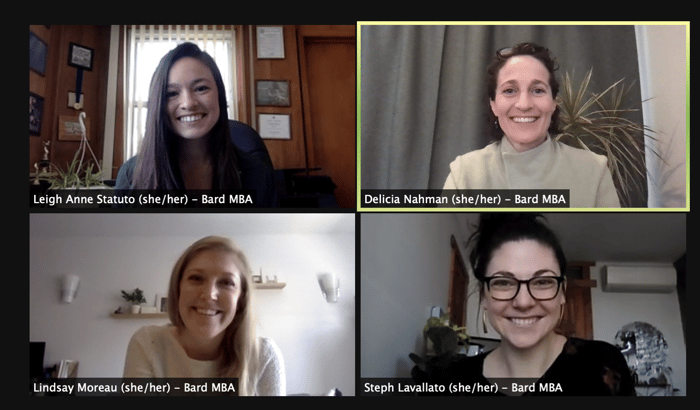 And here is the story from May, 2021: Four Bard MBA in Sustainability students emerged victorious at the 2021 Total Impact Portfolio Challenge (TIPC). The team prevailed over runner-ups from Duke, USC and Fordham, while besting a field that included MBA competitors from more than two dozen schools, including Harvard, NYU, Wharton, Michigan, Chicago and Cornell.
TIPC is sponsored each year by the Wharton School of Business and SOCAP Global. The TIPC 2021 project required constructing a model impact portfolio for the endowment of a private family foundation dedicated to supporting children's welfare. The Bard students – Delicia Nahman, Stephanie Lavallato, Lindsay Moreau and Leigh Anne Statuto – won the competition by designing a portfolio that delivered 100% impact through a holistic impact rating system, along with an expected financial return that exceeded the foundation's goals.
"This competition gave us the opportunity to apply the deep impact investing knowledge we learned from Bard's MBA program. " said Nahman. "We learned that by crafting an ESG portfolio that meets returns while ensuring mission-alignment of the client, there is a positive multiplier effect that shifts capital towards building a more just and verdant world for the client and society at large."
Bard MBA finance Professor Randy Strickland coached the team to victory. He says that Bard's edge comes from the comprehensive "integrated bottom-line" approach in the MBA program. In every course across the curriculum, students focus on how to put social and environmental mission first, while ensuring that financial success follows.
Surprisingly, none of the winning Bard team members came to the MBA with finance backgrounds. The coursework they all took in the Bard MBA Concentration in Impact Finance provided the knowledge springboard needed for students who are seeking a career transition into ESG and impact finance.
Two of the Bard students, Stephanie Lavallato and Lindsay Moreau have made just such a move. Stephanie began the MBA program working as a data manager at a nonprofit focused on climate disclosure, and is now an Associate Program Director of Climate & Environmental Justice initiatives at the Interfaith Center for Corporate Responsibility, a shareholder advocacy organization. In this role, Stephanie works directly with asset managers and asset owners on campaigns that leverage their shareholder power to get companies to take action on ESG issues.
Lindsay recently transitioned from nonprofit fundraising to join JUSTCapital on its corporate engagement team. In her new role, Lindsay will be making the case to US-based corporations that stronger ESG practices ultimately result in improved financial performance.
"As a fundraising professional, I understood the case for strategic philanthropy and measuring impact," said Moreau. "Through my experiences at Bard and the TIPC competition, I've grown to be able to make the case for strategic impact investing, and how moving capital towards impact at scale can drive change."
The Bard MBA in Sustainability prepares students for leadership positions in a variety of business environments—from innovative start-ups to major corporations—with in-depth knowledge of core business skills through the lens of sustainability. The globally leading business curriculum integrates sustainability vision, real world consulting engagements, organizational transformation and entrepreneurial training, equipping graduates to change the game.
What should you look for in a cutting-edge MBA program? We invite you explore our digital resource page to learn how an MBA in Sustainability could transform your future.