Bard MBA Spring Newsletter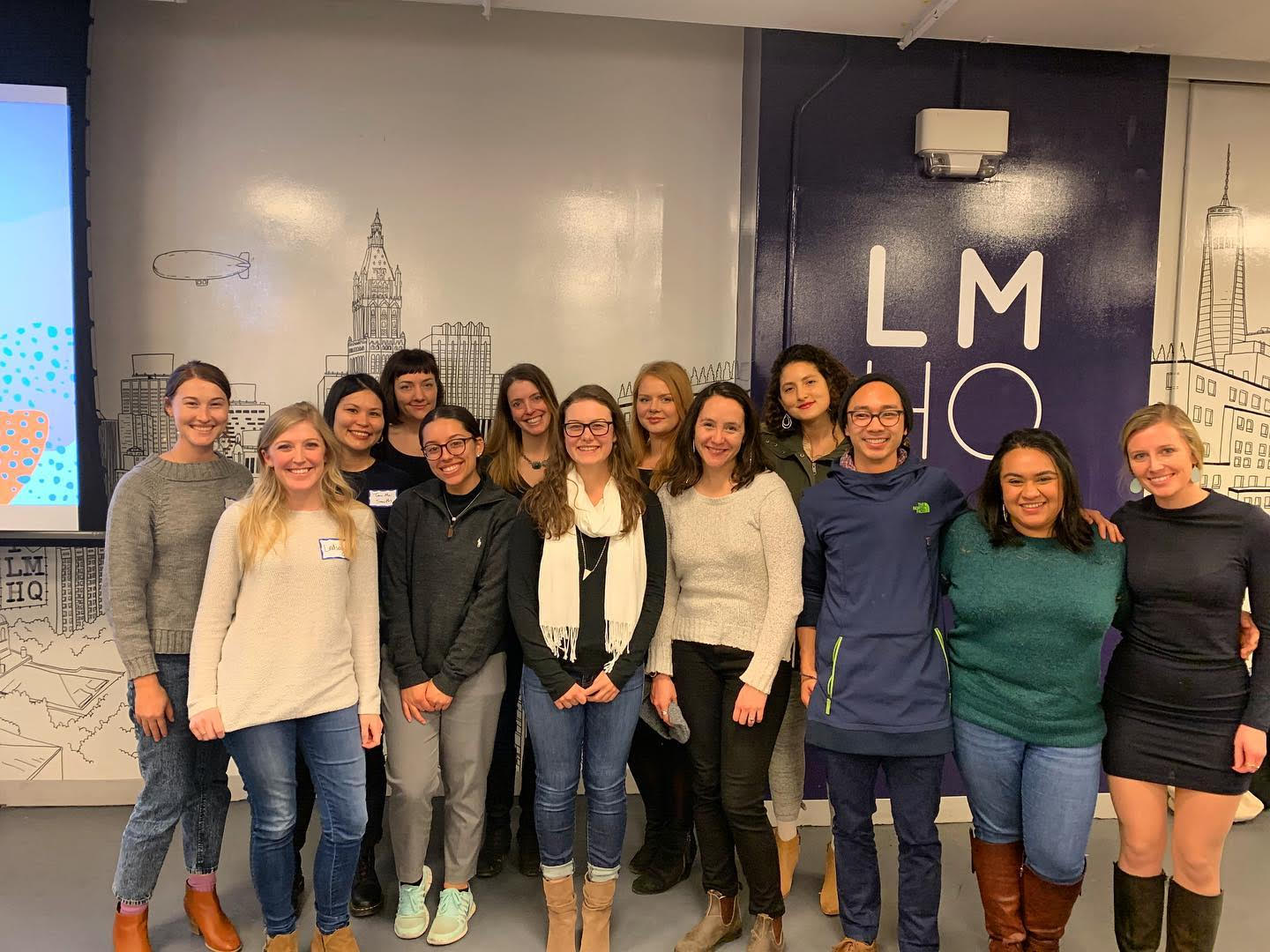 Greetings to the Bard MBA Community,

Welcome to our Spring 2020 Newsletter. You are reading this two months into the global pandemic, with illnesses and deaths still growing, much of the global economy shut down, and the worst economic forecast of the past eighty years. And still -- we hope you will enjoy some good news about the successes of our student and faculty over the last six months.

Two features of the Bard MBA have stood out in the past few weeks. The first is the strength and resilience of our community. We are small-by-design, and from the early years we have built a strong culture of continuous improvement, with multiple avenues for constant feedback from students and faculty. This allowed us to pivot quickly to fully on-line, while continuing to deliver the highest quality of business education possible at this moment. Going forward, we are committed to our hybrid model, in-person weekend residencies combined with on-line. Yet we have proven our ability if needed next fall to flex seamlessly between the hybrid and fully-
on-line approach, and provide an individual focus on student needs and on-line engagement.

The second feature is the depth of our collective intellectual project. Even in normal times, the Bard MBA faculty and students are thinking about and practicing how to drive deep structural change, to move existing capitalism rapidly towards a "natural capitalism." At our on-line residency in March, we invited three of our faculty—Hunter, Randy and Alejandro—to offer some preliminary thoughts on the broader meaning of COVID-19 (in case you missed it - you can view a recording of Hunter's sustainability learnings from COVID-19 here). The world is changing fast, and over the next year or two as we live through the pandemic, the Bard MBA will be an especially exciting center for the kind of radical re-imagining and hands-on experimentation we need to build a sustainable future.

I want to end on a note of gratitude to all of our students, faculty, staff, friends and advisors who are weathering this crisis with kindness, grace and a determination to stay focused on the work ahead. We are strong together.

Best wishes in difficult times,
Eban
---
Global Climate Discussions on Solutions
Solve Climate By 2030 launched on April 7, with university-hosted climate solutions webinars in 45 states, plus Washington DC, Puerto Rico and five international sites: CEU, AUCA, University of Rio de Janiero, BRAC University, and United World Colleges. Organized by the Center for Environmental Policy at Bard College, Solve Climate is the first "distributed" policy dialog on climate change ever, and it is especially notable in the midst of the coronavirus Pandemic.Bard MBA and CEP Director Eban Goodstein kicked off the evening of conversations with reflections on the global coronavirus pandemic: "COVID-19 is a stark warning about what happens when we ignore warnings from science. Tonight, across the US and the world, we'll see how ten years can be time enough to drive the climate solutions we need." Check out the Solve Climate by 2030 website to view recordings of the statewide webinars and for additional resources.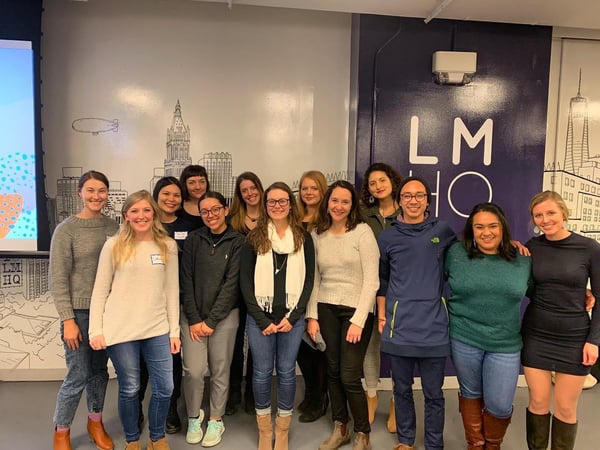 Current and future Bard MBA students with MBA alum Chelsea Mozen '15 who presented on Etsy's carbon offset program at LMHQ early this spring semester.
Send Potential NYCLab Consulting Clients Our Way
This year's NYCLab request for proposals will go live in May, and we'd love to be in touch with potential clients. In this unique experiential course, our MBA students work with corporate, government and nonprofit organizations to solve sustainability-related business problems. We're looking for substantive projects that will engage a student team for 7 months, from clients ranging from startups to established organizations. If you know a potential client, put them in touch with Associate Director Caroline Ramaley.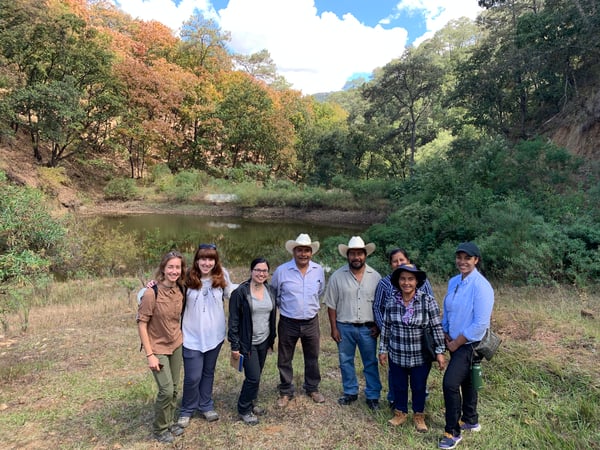 Diana Farmer '20, Veronica Johnson '21, Michelle Velez '21, and Melisa Baez '20 meeting with our NGO partners in Oaxaca, Mexico this past J-Term on Sustainable Development.
2020 Capstone Presentations - Virtual!
On Sunday, May 17, our graduating MBA students will present their capstone projects via videoconference. Please tune in to learn more about the impressive work our students are doing. This is a unique opportunity for family, friends, and colleagues from across the country (and world!) to join these presentations. Save the date and stay tuned for more details!
Read on to find out what our students, alumni, and faculty
have been up to!
Bard MBAs Speak Out
Alexandra Criscuolo '19 published "8 Ways to Make Your Swim Meet More Sustainable" in SwimSwam Magazine. For the article, she interviewed sports sustainability expert Allen Herskowitz, CEO of USA Triathlon Rocky Harris, and International Swimming League GM Kaitlin Sandeno. In June in Philadelphia, Alexandra spoke on a "Young Emerging Professionals" panel at the Green Sports Alliance Summit.

Two Bard Teams from the Employees and Organizations 2019 Class (under the direction of Professor Kris Kohl) were selected as finalists for the AIM2Flourish 2020 Flourish Prizes. Out of 824 stores submitted from 22 countries, these stories were selected for their impact as Business as an Agent of World Benefit. The finalists include: Imagining a World Where All Are Inspired to Live Sustainably Featuring Futerra (Eliza Edge '20, Sarah Hutcherson '19, and Lindsey Strange '19) and The First Circular Economy Eyewear from Flint Featuring Genusee (Tony Hoyt '20, Alexandra Criscuolo '19, and Savannah Parsons '20).
Kristin Hanczor '20 published "Sports Gets In the Game During Climate Week" on GreenBiz. She also moderated several sessions at VERGE19, including a panel on "Corporate Electric & Sustainable Transport Strategies" with speakers from Clif Bar, Genentech, HP and VMware.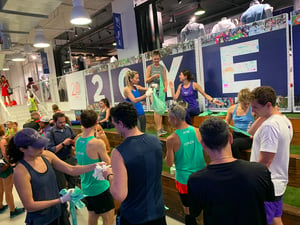 Janet Kraayenbrink Viader '20 participated in "The Beauty of Food Waste: An Intimate Rooftop Conversation," in which friends and heroes discussed food systems, food waste, and innovative solutions.
Cory Skuldt '18 recently facilitated a session on sector alignment and harmonizing benchmarking at the Textile Exchange conference in Vancouver, BC. She also spoke at several other panels last fall, including a panel at Southwestern, a sustainability and fair trade event, and a sustainable sourcing and design panel at ACC Fashion Incubator. Cory was also quoted in Bloomberg Environment speaking about sustainable fashion.
In October, Jesse Gerstin '20 presented at a workshop hosted by the World Economic Forum's Global Future Council on Advanced Energy Technologies. Jesse spoke on the future of second life batteries and battery recycling, and his findings will be shared at the next WEF annual meeting as part of the Forum's analysis of how business is helping drive the transition to a clean energy economy.
In October, Simon Fischweicher '16 moderated a panel on TCFD —Task Force on Climate-Related Financial Disclosures — at Sustainable Brands' New Metrics conference in Philadelphia.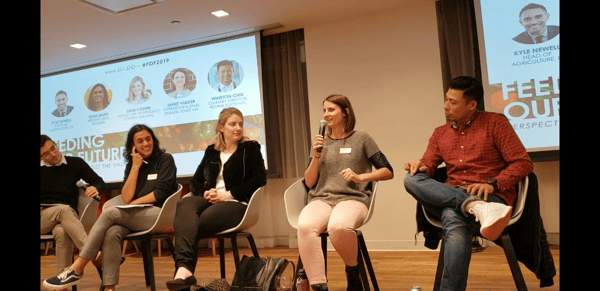 Janet Kraayenbrink Viader '20, talking systems and solutions on the "Beauty of Food Waste" panel.
Nicole Pamani '20, Diana Farmer '20, and Janet Viader '20 attended the Net Impact Conference in October.
Cory Skuldt '18 and Katie Ellman '18 recently launched Impact Network, a team of independent sustainability consultants that works with companies at all stages of their sustainability journey to tackle issues important to their business, customers and communities.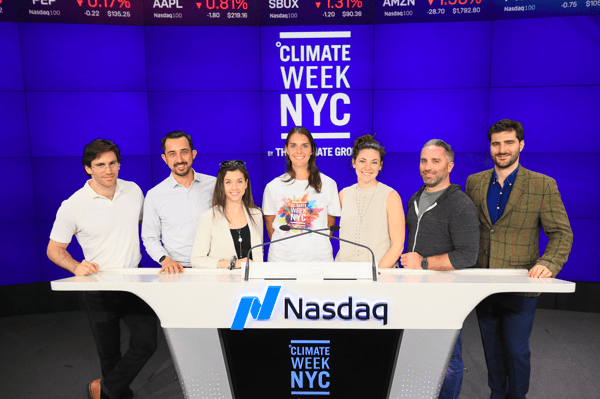 In September, Kristin Hanczor's '20 then organization, The Climate Group, rang NASDAQ's closing bell on Friday September 27th to recognize Climate Week NYC. Pictured are Kristin (middle) and fellow Bard MBA students Reed Shapiro '19, Jesse Gerstin '20, Stephanie Lavallato '21, Lucien Harlow-Dion '22, Michael Amoroso '22, and Brittany Pettit '22.
MBA Student and Alumnae Professional Updates—Congratulations!
Michelle Aboodi '21 became the Social Impact Program Coordinator on Unilever's Global Integrated Social Sustainability team. She's now involved in the company's social impact work, including responsible sourcing, fairness in the workplace, and gender equality.
Jesse Cutaia '18 started as Project Developer with a new company, Community Energy Inc. Jesse is in charge of community solar development activities in the mid-Atlantic markets, mostly New Jersey and Maryland.

Jarrid Green '18 was recently promoted to Project Manager at Freedman Consulting, LLC.

Roxi Sharif '20 joined a global team of sustainability consultants, data scientists and risk management experts at Datamaran. She was also recently elected Vice Chair of the Sierra Club and established a Green Finance Committee to support risk management professionals who want to drive impact in the financial sector.

Mariana Souza '16 has been promoted to Manager in Transformation Delivery at KPMG.

Mo McCarthy '20 recently began work as a Data Scientist at Amenity Analytics.

Victoria Marino '16 was accepted into the Hudson County Workforce Development Leadership Academy through the Aspen Institute's Economic Opportunities Program!

Kristen Hanczor '20 accepted a new position as the Senior Partnerships Manager for the Green Sports Alliance.

Alexandra Criscuolo '19 was named a "Global Changemaker" by We Make Change as well as one of GreenBiz's 30 Under 30. Congrats! She also started a new job as New York Road Runners' first Environmental Sustainability Manager.

Diana Farmer '20 was hired on at CDP where she will work to support disclosure, insight, and action on environmental risks and opportunities.
Bard MBA Faculty in Action
JD Capuano, our Data, Analytics, and Decisions faculty member was hired by Mightybtes, a public-benefit corporation and Certified B Corp. Mightybytes is a digital agency that specializes in sustainability. JD was brought on by the founder to help him build out new services focused more on impact and purpose consulting, and services that draw upon the firm's technological strengths and intersect with sustainability. JD also worked with Mightybytes on SDG research that included some Bard alums and friends. Here's a link to the blog summarizing our findings that includes a link to the report.

On December 20th, well-known diversity and inclusion consultant Jennifer Brown interviewed Bard MBA Marketing professor Jorge Fontanez for her "The Will to Change" podcast. They spoke about an emerging tool to measure corporate sustainability efforts and why senior leaders should listen to their employees. Listen here!

Bard MBA Director Eban Goodstein and POSM professor Hunter Lovins published "A Pathway to Rapid Global deployment of Solar Energy? Exploring The Solar Dominance Hypothesis" in the October 2019 issue of Energy Research and Social Science.

Hunter Lovins also keynoted the International Conference on Environmental Health and the Quality of Human Life in Seoul, Korea. Her latest book, A Finer Future: Creating an Economy in Service to Life, was named the number one best climate and business book of 2018 by GreenBiz, and it was reviewed in the 10th anniversary edition of Solutions Magazine, which also featured her piece on regenerative hubs.

Entrepreneurship faculty member Alejandro Crawford has been busy spreading the word about RebelBase, his web platform that allows innovators to build and test their ideas. In between, he's keynoted the "Toward Collaborative Practice" conference in Budapest and contributed a chapter to the Federal Reserve's Investing in America's Workforce on "Credentialing Entrepreneurs: How and Why."

Impact Lab professor Randy Strickland recently served on a panel at the Harvard Social Enterprise Conference on "Putting Your Money Where Your Mouth Is: Democratizing Mission-Based Investment Strategies."

Laura Gitman, the program's NYCLab and Strategy professor and BSR COO, interviewed Seth Goldman, Chair of Beyond Meat and Co-Founder of Honest Tea on the plenary stage of the 2019 BSR Conference. Laura has also published a blog calling for corporate sustainability teams to continue to drive progress in the time of COVID-19. Give it a read here.

Our faculty member, Gilles Mesrobian will be facilitating the New York Foundation for the Arts' Emerging Leaders Program 2020! The goal of the program is to help the arts administrative directors identify and develop their personal motivation and individual competencies as leaders.

Kristina Kohl, who teaches the program's Employees and Organizations course, spoke to the Wharton Club of New Jersey with Bill Klun on the topic of "Climate Change in Our Lifetime." Kris's book, Becoming a Sustainable Organization: A Project and Portfolio Management Approach, was recently featured on Marc Kramer's weekly program on local radio station KYW. Kris has also been named a 2020 Woman to Watch by SJBiz magazine and was honored as an ICON Award winner for her work in impacting women in leadership. Many congratulations!

Michael Shuman, who leads the Bard MBA's Sustaining Mission-Driven Organizations course, has a new book out entitled Put Your Money Where Your Life Is: How to Invest Locally through Self-Directed IRAs and Solo 401ks. He has also published blogs responding to the COVID-19 economic crisis calling for state-level action to support small businesses and supporting community-level resilience. Michael also continues to work with communities such as the Hmong community in the Twin Cities and with tribes in the Northwest on economic development strategies.
Help Us Find Future Leaders
As we recruit our next group of students to rewire the world with clean energy, reimagine the global food system and reinvent finance, we invite you to be part of the process. Please let folks who want to be part of this work know how to apply to join us.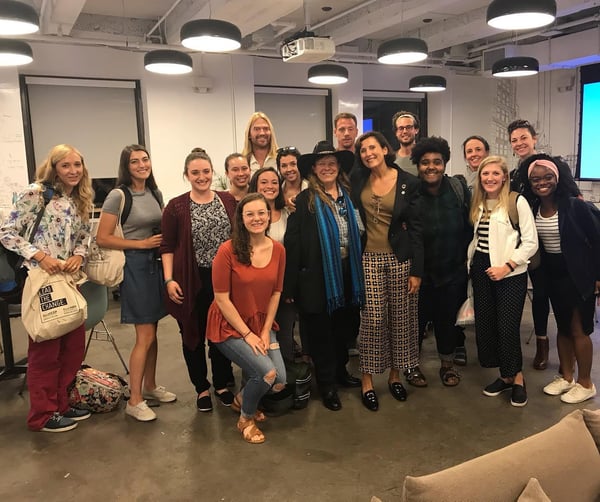 Bard MBA students in Hunter Lovins' Principles of Sustainable Management course meeting with Sandrine Dixson-Declève, energy policy expert and co-president of the Club of Rome.
Working Together + Staying In Touch
Don't hesitate to reach out to us if you want to learn more about our MBA program, partner on a project, or hire our students. We would love to hear from you.
Best regards,
The Bard MBA in Sustainability Team