We've been busy here at the Bard MBA in Sustainability this past summer and fall, and we're excited to share the news of recent and upcoming happenings with the Bard MBA community.
Spread the Word!
Bard's MBA program, in the heart of NYC, is one of a select few programs globally that fully integrates sustainability into a core business curriculum.
Please let qualified applicants know about our upcoming admissions events:
and about these admissions deadlines:
January 15: Early Admissions Deadline
March 15: Regular Admissions Deadline
May 15: Final Admissions Deadline
Bard MBA Community Grows with the Addition of NYPA Degree Offering
Earlier this fall, the Bard MBA program won a competitive bid to deliver an onsite, low residency graduate business degree to a cohort of future energy sector leaders from the New York Power Authority (NYPA).
NYPA is the largest state-owned electric utility in the U.S., operating 16 generating facilities and more than 1,400 circuit-miles of transmission lines. The 87-year-old public authority operates statewide, and is a national leader in delivering energy efficiency, developing clean energy technologies and helping deploy electric vehicles. 12 NYPA employees will begin the two and a half-year, part-time program in February of 2019, with a graduation date set for May 2021.
The MBA would also like to welcome aboard Reagan Richmond (MBA '17) as the Program Manager for the MBA at NYPA. Reagan's MBA capstone was on leadership development in the utility sector, so she's putting her research right to work.
The Impact Report
The Impact Report podcast features conversations with sustainability leaders from around the world, from the C-suite in New York City to social enterprises in rural Africa. It's the first podcast of its kind, bringing together students, alumni and faculty in Bard College's MBA in Sustainability Program with leaders in business, sustainability, and social entrepreneurship. Subscribe today!
New Elective for Spring 2019 and Introduction of Focus Areas
The Bard MBA has added a third option to our new electives series. In addition to ImpactLab and Business and Sustainable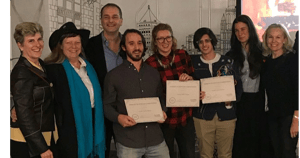 Development (our 10-day immersive course in Oaxaca, Mexico), we will be offering a course in Circular Value Chain Management, taught by Operations and Supply Chains professor Jennifer Russell.
These electives will enrich our two new focus areas: Impact Finance and Circular Value Chain Management. Students will have an opportunity to dive deeply into these fields of business expertise through focused electives, an individually designed and mentored capstone, and external engagement.
Bard MBA Students Disrupt to Sustain
Bard MBA is gearing up for our third annual Disrupt to Sustain (D2S) pitch competition. This year, five teams from our second-year Entrepreneurship class and seven from our first-year POSM and Accounting classes will compete for the grand prize.
Join us for our Annual Holiday Party on Sunday, December 16
Following the D2S competition, we'll be hosting our holiday party at LMHQ from 5:30-8:30pm. As always, all past, present, and future MBA community members are welcome!
Congratulations Net Impact!
Our Bard MBA Net Impact Chapter has officially been awarded gold status! According to Net Impact, "Gold chapters are the most outstanding chapters in the Net Impact community, which includes more than 375 chapters in 40+ countries around the world. Gold chapters go above and beyond in their activities and play an integral role in helping the Net Impact community achieve our mission to build a more just and sustainable world." Keep up the great work, everyone!
Read on to Find Out What our Students, Alumni, and Faculty Have Been Up To
Bard MBAs Speak Out
Casey Hughes '21 spoke at the National Organic Standards Board meeting in Minneapolis in partnership with the organization she completed her CEP internship with, the National Organic Coalition.
Alexandra Criscuolo '19 recently published "To Make the Case for Eating Crickets, Start in the Kitchen," one of the top 20 Kickstarter's best-performing blog posts of all time, and "What's the Environmental Impact of Your Music?".
Roxi Sharif '20 spoke at the September 8 Long Beach rally for Rise Against Climate, representing her chapter of the Long Island Sierra Club as well as the Long Island Progressive Coalition.
Kristin Hanczor '19 attended Schneider Electric's "Energy & Sustainability Perspectives Summit" in Nashville on August 24. She presented on a panel entitled "Leading on Renewables: The Material Impact of
Green Procurement" with Scott Hassell, VP & Director of Environmental Sustainability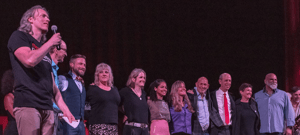 for Fifth-Third Bank.
Ian Edwards '15 produced the first TEDxProvincetown on June 30.This community event featured ten speakers, including Best Bees Company founder Noah Wilson-Rich.
Our MBA Alums Step Up
Amy Campbell Bogie '17 has had busy past few months. She organized the Croatan Forum, a 3-day conference on impact investing, sustainable finance, and related issues put on by the Croatan Institute October 2-4 in Durham, NC. In conjunction with the conference, the Institute's new Racial Equity, Economics, Finance, and Sustainability (REEFS) initiative hosted a roundtable. The Institute also co-hosted the first southeast event for the Regenerative Agriculture Investors Network with LIFT Economy, Delta Institute, the Center for Environmental Farming Systems, and Slow Money NC.
Mariana Souza '16 recently got a byline on "The Battle for Growth—Establishing a Decentralized Power & Utilities Market," a KPMG white paper that proposes investments and innovations utilities need to consider in order to survive.
Alexandra Santiago '16 participated in Inward Point's production of the Leonardo DiCaprio Foundation's 20 Anniversary Celebration. Highlights include: raising $8 million for climate initiatives; Jane Goodall as a featured speaker; partnership with SingleThread Farms and Jackson Family Wines to ensure the produce on the event's reception and dinner menus were sourced within 20 miles of the venue; and aiming for 99% waste diversion, with many materials from the event being donated to Sonoma County fire victims.

Bard MBA Student and Alum Professional Updates—Congratulations!
Ben Volk '19 has accepted a Net Impact Food Fellowship and will be consulting for Lowcountry Street Grocery, a mobile grocery store in Charleston, South Carolina.
Following the completion of her summer EDF Climate Corps Fellowship at Kickstarter in Brooklyn, NY, Alexandra Criscuolo '19 began a school-year-long, part-time position at the company as an Environmental Impact Consultant.
Roxi Sharif '20 recently started a full-time position at the North Shore Land Alliance as their
Operations Manager.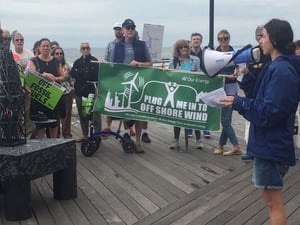 The nonprofit community development corporation is dedicated to the preservation of open and natural spaces on Long Island, with a focus on clean water and strengthening local food economies.
Whitney Files '15 relocated to Rockland, Maine, this past August to start a new position as the Chief Operation Officer of the Knox County Homeless Coalition.
Heather Bowden '18 has accepted a teaching position at Baruch College as Adjunct Lecturer teaching Information Systems.
Jennifer Shelbo '17 took a position at Coda Signature in Colorado as Manager of Topicals back in February. Her company recently won 7 awards at the Hemp Connoisseur Championship, with her team winning two: 1st place for their Symphony Collection of Bath Bombs, and 2nd place/Connoisseur's Choice for their Restore Skin Salve.
Alexandra Santiago '16 recently left a 2-year stint as a Strategist at Futerra to begin work as an Account Director for Inward Point, a zero waste events company.
Bernell Grier '15 was named one of the top 48 New York City change-makers by the Robert Sterling Clark Foundation for her work as Executive Director for IMPACCT Brooklyn and is now recognized as part of the Sterling Network NYC.
Bard MBA Faculty in Action
POSM professor Hunter Lovins is excited to announce the recent release of her new book,
A Finer Future: Creating an Economy in Service to Life.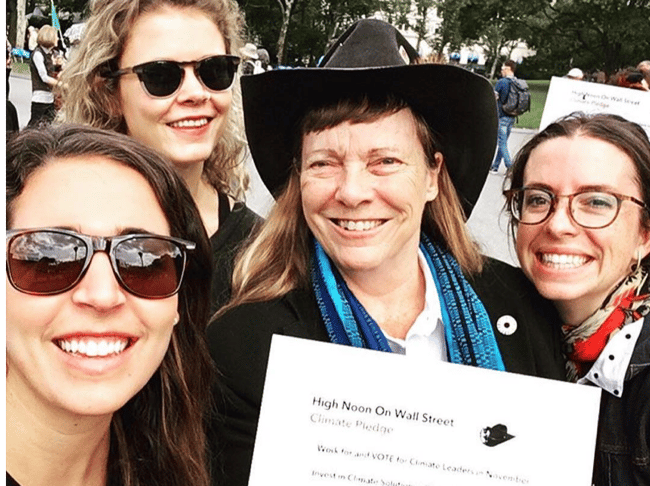 On September 25, she launched WEAll, the Wellbeing Economy Alliance in NYC, an international alliance of new economy groups working to create an economy that works for everyone. Other recent events include stepping in as a Masters Course Professor at Watson University, speaking at Naropa University, and headlining our Business Stepping up for Climate Action event during Climate Week NYC. Hunter also recently spoke on two separate occasions at the United Nations, once at the UN NGO Summit to about 2,000 delegates from around the world, then again at the UN Impact Finance Summit for the UN General Assembly.
Our newest professor, Jennifer Russell, has had an eventful start to her time at Bard. On September 18, she led an industry workshop on the methodology for quantifying environmental benefits of remanufacturing at the World Remanufacturing Conference, Rochester NY.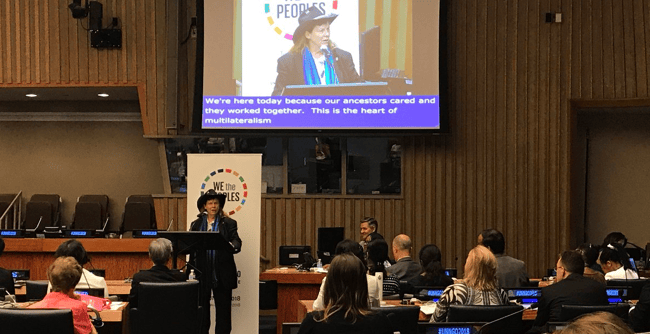 The following day, she presented results and key policy insights of the UNEP International Resource Panel Study ("Assessment of Resource Efficiency and Innovation in Circular Economy Through Remanufacturing, Reuse, Repair, and Refurbishment") atthe World Remanufacturing Conference. She is the second author on this global study. More recently, her report on "Re-defining Value—The Manufacturing Revolution" was officially launched at a press conference at the World Circular Economy Forum (WCEF 2018) in Yokohama Japan. The report, summary documents, and supporting materials are all available on the UNEP International Resource Panel website.
Leading Change professor Aurora Winslade recently co-organized an event at the Global Climate Action Summit on Carbon Pricing in Higher Education that featured former Secretary of State John Kerry as keynote speaker. The event included the launch of a beta version of the Internal Carbon Pricing in Higher Education Toolkit. She also presented preliminary results of a leadership study on "Sustainability in the C-Suite" at the national conference for the Association for the Advancement of Sustainability in Higher Education. Two Bard students, Kristin Hanczor and Sarah Hutcherson helped with the preliminary work to set up the study, which involves interviews with higher education presidents.
Accounting and Finance faculty member Kathy Hipple recently co-wrote a report calling for Divestment from Fossil Fuels, which was lauded by Bill McKibben and has been used by numerous funds considering divestment. Her IEEFA papers on the Trans Mountain Pipeline and Teck Resources, Ltd. have been cited in court filings opposing both new oil sands mines and pipelines in Canada. She is currently working to slow the expansion of fracking in Patagonia.
Help Us Find Future Leaders:
As we recruit our next group of students to rewire the world with clean energy, reimagine the global food system and reinvent finance, we invite you to be part of the process. Please let folks who want to be part of this work know how to apply to join us.
Working Together + Staying in Touch:
We invite you to sign up to our blog, Lead the Change, for weekly updates and join us in leading the change in our communities, workplaces, and the world.
Don't hesitate to reach out to us if you want to learn more about our MBA program, partner on a project, or hire our students. We would love to hear from you.