Your Energy and Climate Video Primer for New York State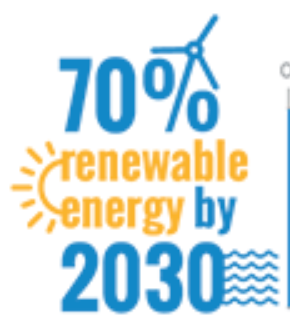 Looking for binge-worthy video? How about using your TV time to get up to speed on one of the most critical issues in human history: responding to climate change. In this series, we get down to the state and city level, and examine how NY State's groundbreaking 2019 law, the Community Leadership and Climate Protection Act (CLCPA) is playing out on the ground three years later.
The CLCPA has very ambitious goals as outlined in this graphic. They include 70% renewable electricity by 2030, and an 85% reduction in global warming pollution by 2050.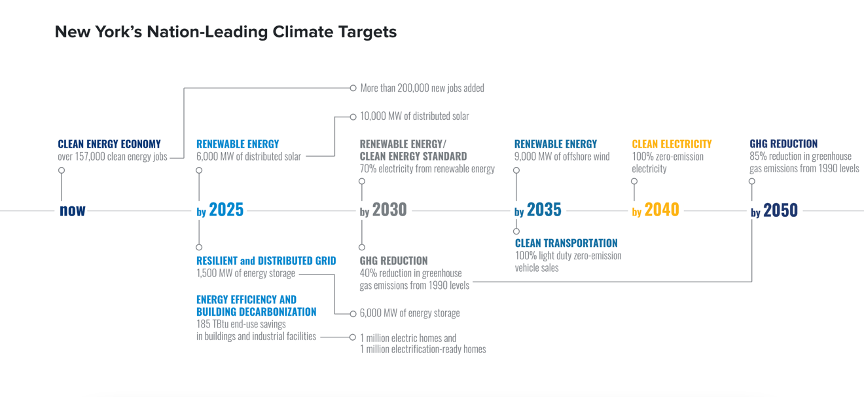 Source: https://climate.ny.gov/our-impact/our-progress
Join experts in national and state climate policy, solar energy, climate justice, solar and onshore wind siting, community-level action and offshore wind as they weigh the prospects for a disruptive energy transition in New York State. This series is brought to you by the Spring 2023 Energy Systems Policy class of the MS Environmental Policy program at the Center for Environmental Policy at Bard College in New York.
Featured Videos below include:
Read on, and enjoy the presentations.
US Climate Policy, The IRA and NY State Implications / Dr. Dallas Burtraw, Resources for the Future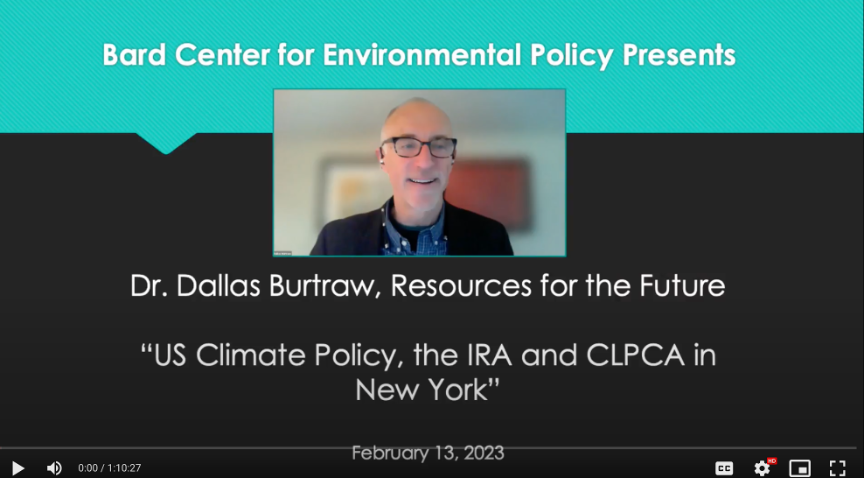 In this talk on the 2022 US Inflation Reduction Act, Dr. Dallas Burtraw discusses the impact that the IRA will bring to the general public. This piece of policy was a long time in the making, Dr. Burtraw lays out the context of the bill by first bringing up the Bipartisan Infrastructure Law and Clean Air Act Regulations that "began to set the stage" for the IRA. As the IRA comes into effect Dr. Burtraw stressed that it "represents a shift in emphasis from getting the prices the right to getting expectations right to drive investment."
Dr. Burtraw ended his discussion on the IRA with a tempered look at its potential, arguing that more will have to be done in order to bring substantial change; "When you've got subsidies, and you have regulation, the great third leg of the stool would be some element of carbon pricing." As we look to the future, Burtraw argues that the IRA will be a policy that will have lasting impacts that we can further push with a concerted effort.
The CLPCA and the Scoping Plan for NY / Frances Duncan, and Patricia Hanna, Bard CEP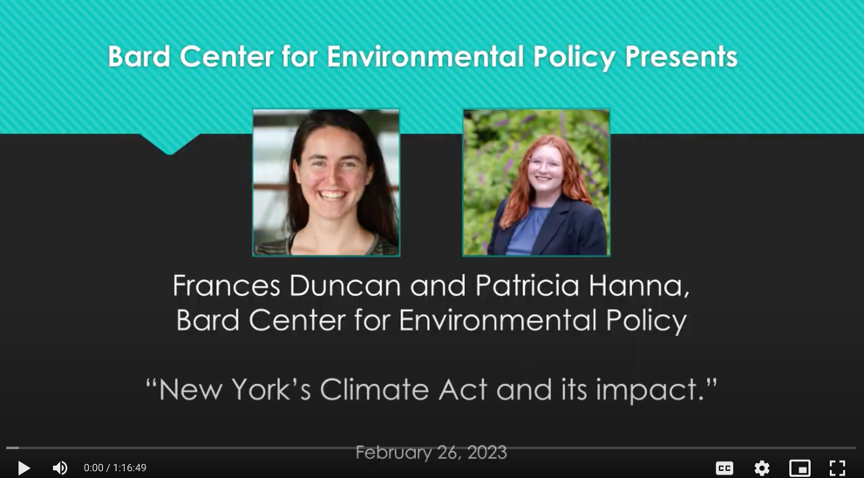 Both Masters Graduates from Bard CEP, Frances Duncan has worked in the Hudson Valley with and Partners for Climate Action, while Patricia Hanna has been part of the State Assembly team for Member Didi Barrett, who is now a chair of the state energy commission. Their presentation provides a broad overview of the plan, and how it will impact different interest groups and industries. Duncan: At the root this program seeks to assist some of the most disadvantaged groups in the state while still being able to reduce emissions in order to reach the state's lofty 2050 goals. I believe this program is a right step in that direction!
The presentation then shifted to focus on the NY state budget and its role in funding the CLCPA initiatives. Hanna: This is a lot of the work I have done for the councilwoman. At the end of the day the budget is one of the most powerful and important decisions at the state level. It determines if programs live or die.
Duncan and Hanna conclude with a focus on workforce development. Right now there simply are not enough plumbers and electricians to install all the potential heat pumps and other resilient infrastructure. Overall, this presentation highlights the ambitious agenda that the state has taken on, establishing itself as a national leader in climate policy. However, most of the work still needs to be done.
The CLPCA and Climate Justice / Jasmine Graham, Executive Director, Mid-Hudson Energy Transition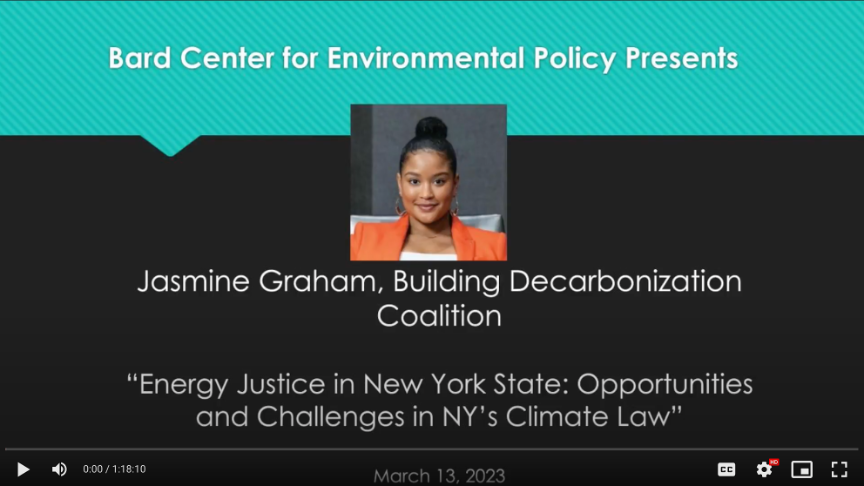 Graham examines New York's Climate Leadership and Community Protection Act (CLCPA) justice provisions around disadvantaged communities and equity frameworks. Jasmine also discussed avenues of participation for policymakers, as well as current policy proposals and New York State initiatives The conversation on energy justice centered around four pillars: Equity, Affordability, Access and Participation.
"You want to have equity in the distribution of benefits and burdens. You want to have affordability of energy costs. You want to have access to opportunities and technologies, and you want to make sure that communities have participation in decision making. Those paired with some of the long-standing kind of environmental justice principles are the values that folks should be using when designing good policy. But, it's not that simple."
The discussion also highlights the need to move beyond simply seeking access and affordability and towards a framework of ownership, self-determination, and reparations for past harm:
"We do want to access, and that is a fair way to characterize it. But we also want ownership. We don't just want access to community solar. We don't want just a 10% bill discount. We want to own our own solar. We don't want to just participate in the existing processes, we want self determination [...] We don't want just an energy bill that is manageable. We actually want reparations. We want repair for the harm that has been done, and through the line of all of this is that we want equity, and in wanting equity you need to take into account the harm of the past."
Graham left Bard students with many takeaways: the importance of stakeholder engagement with community members may very well have been one of the most important:
"Ultimately we want to get to this place where we are actually deferring to the communities where we're going beyond inserting ourselves and where these communities are able to self-govern, where they can have community driven, decision making, and where they are empowered to represent themselves."
NY Solar Barriers and Opportunities / Ron Kamen, EarthKind Consulting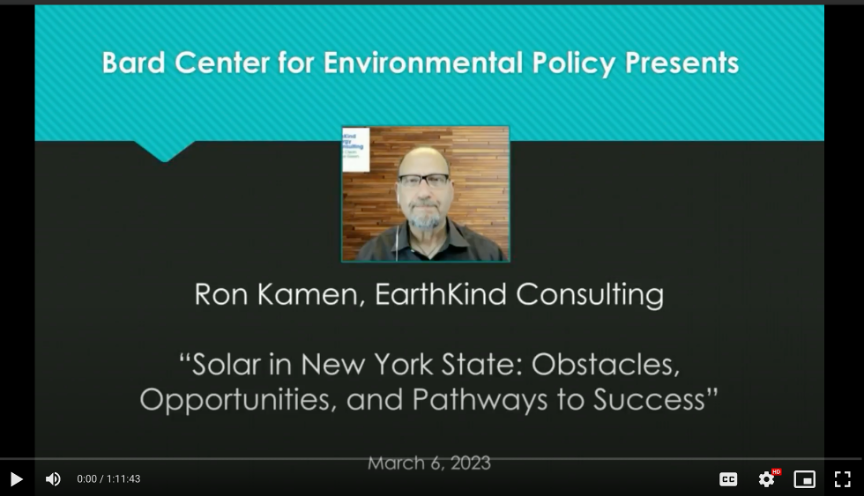 Kamen, speaking from an industry perspective, discusses the obstacles, opportunities, and pathways by which New York State can make a successful solar transition. Notable takeaways:
"There's some technical constraints, but from my opinion it's really more. The community constraints that we've got to be focused on and deal with. The technical stuff can be overcome. The community stuff, on the other hand, becomes much more problematic.
"Part of it depends on the private side, really, how much influence the fossil fuel industry has. They've really scared people with the potential blackout stuff…not having enough energy to go around."
"So like you said when there's targets out there, and we put our minds to it and we mobilize our resources, we can achieve some amazing things. "
Siting Solar, Wind and Storage / Audrey Friedrichsen, Scenic Hudson, Senior Climate and Renewable Energy Attorney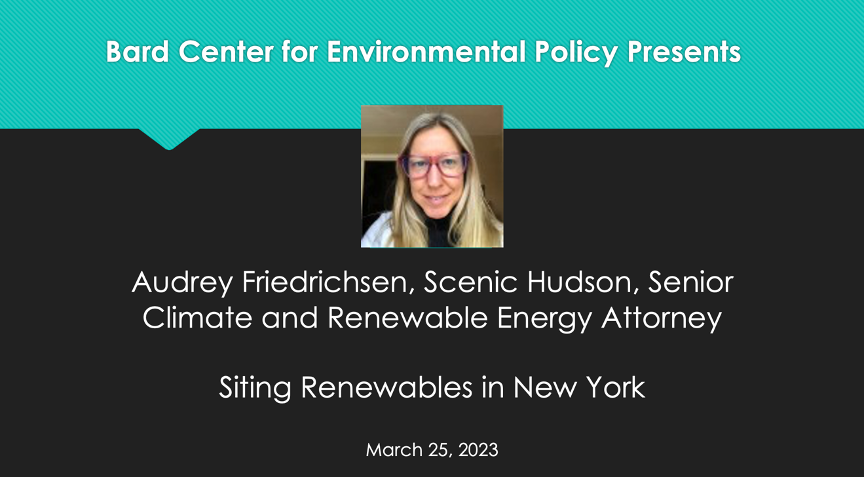 Scenic Hudson has been thinking about renewable energy facility siting since it got its start opposing one—a pumped storage facility on Storm King mountain—in 1963. With climate change demanding a rapid transition to renewables, and siting being a major challenge, Scenic Hudson's Frierdrichsen is now working to find a way through: How do we come up with principles achieve both the acceleration of renewable energy, but protecting all of those things that we have worked to protect for so long?
In this talk, Friedrichsen provides rich detail on the New York state siting process, both challenges and opportunities. For example:
Once a project has its REC contract from NYSERDA, still needs to go to the Office of Renewable Energy Siting (ORES) and get a permit. So theoretically, ORES has a list of uniform standards and conditions that say. Okay, if you are a solar project, you need to be this far set back from the road. You can't, you know, impact Wetlands, and if you do, you have to mitigate them in certain way. If you are located on agricultural soils, then you need to follow these particular construction practices. That's for projects 25 megawatts and larger.
And:
I, personally question whether that host community benefit program is sufficient. But maybe in that ores process. you know, some negotiations can go on between the developer and the town to talk about. Maybe what additional benefits could be provided by a development to some degree.
Learn more about this most critical issue.
Catalyzing Community Action / Matt Stinchcomb, Founder, Partners for Climate Action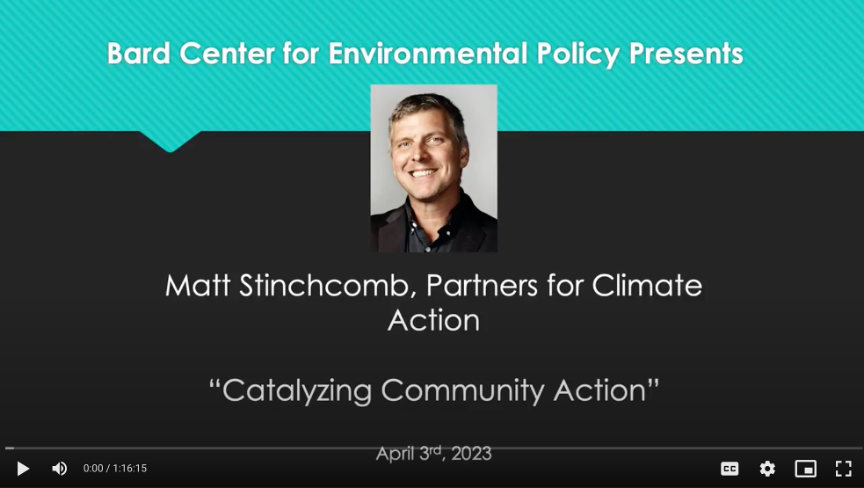 Stinchomb speaks about his work with others promoting community climate action, and what local solutions mean in combating the climate crisis. Stinchcomb is a co-founder of Partners for Climate Action Hudson Valley, an organization that connects with local environmental leaders in New York's Hudson Valley and provides professional and financial support in their efforts to cultivate local resilience. He discusses the barriers that keep people from taking local action and the support Partners for Climate Action offers to help them catalyze their work. For local communities, barriers often include lack of social, financial, human, and/or political capital. Partners for Climate Action aims to bridge these barriers through providing grant funding, networking opportunities, and educational programming for Hudson Valley communities. Solutions at the local level are critical, taking into account the capacity communities have to respond to the climate crisis
"We're going to meet this moment through a very big number of small local actions happening in place. Those alone won't be enough, but that is what might shift the consciousness and that is what might motivate people to actually get to work [...] And the work of these small local actions is also what counters despair."
Stinchcomb discussed how New York's Climate Leadership and Community Protection Act will provide new funding – particularly to disadvantaged communities – that municipalities will need to be prepared for. He mentions that towns already doing relevant work will ultimately be better-positioned to receive state funding. Stinchcomb concluded with the powerful quote from Margaret Mead: "Never doubt that a small group of thoughtful, committed citizens can change the world; indeed, it's the only thing that ever has."
Offshore Wind (Audio Only) / Janna Herndon, Director, Outreach and Engagement, NYSERDA Office of Offshore Wind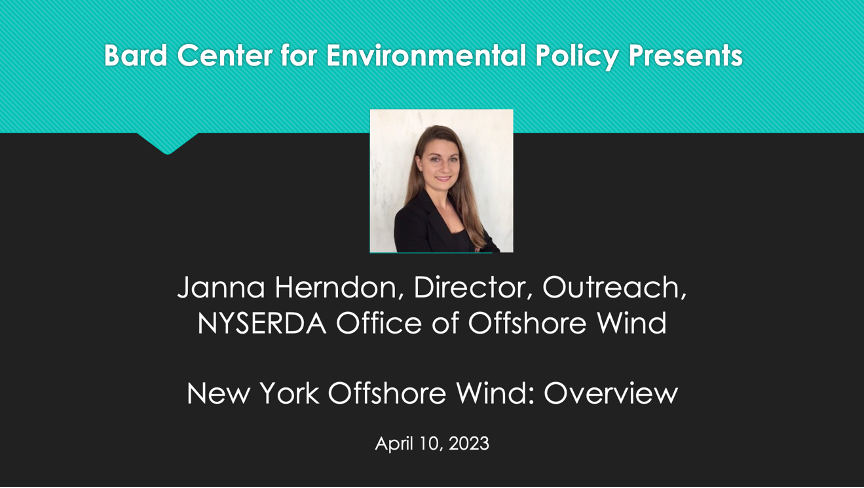 Herndon discusses New York's Climate Act and the development of offshore wind energy projects. She highlights the requirement to develop 9,000 megawatts of offshore wind energy by 2035, which is estimated to power 6 million homes and make up about 30% of New York's electricity load. Herndon emphasizes that offshore wind presents a unique opportunity to generate renewable energy near high-demand areas, create jobs for New Yorkers, and contribute to reducing greenhouse gas emissions. There are currently 5 active projects that are expected to develop 4,300 megawatts of clean energy and bring over $12 billion to New York State.
Herndon. also delves into NYSERDA's stakeholder engagement strategy for offshore wind development, which involves collaborating with offshore wind developers, regional state agencies, federal agencies, and other stakeholders through technical working groups. These groups work together to address issues related to the environment, fisheries, jobs in the supply chain, maritime, and environmental justice. Herndon also addresses conflicts around offshore wind development, such as commercial fishing, which requires a multi-jurisdictional approach.