The Coming Green New Deal: Restoring U.S. Environmental Policy Leadership
2020 just won't quit, will it? In just six months, we have experienced a global pandemic, tragic loss of life, a tanking economy, and now, a long overdue national conversation about race relations and police brutality.
We are living in an era of crisis, an era that is shaking up our cultural and political status quo. In the midst of this disruption, many of us are hungry for new leadership, new ideas, and a new vision for the 21st century. The pandemic and subsequent economic disruption have created a sense of urgency about policy proposals related to equity, healthcare, sustainability, and the environment. George Floyd's murder has re-exposed the gaping wound of injustice in our society, reminding us that racism exists at the personal, institutional, and environmental levels of our collective life.
Meanwhile, the November general election is rapidly approaching.
For us here at Bard, this seems like an important moment to talk about the nature of environmental policy, what our current environmental policy has achieved, what role elected officials have played and can play in the future in terms of fighting climate change, and how a proposal like the Green New Deal can become reality.
The Point of Environmental Policy in the United States
Environmental policies are rules or regulations—set by governments, companies, or organizations—that are designed to shape or change how communities impact and interact with the natural environment.
The goal of policy is to promote health, prosperity, equity, and sustainability.
Policy reform is about getting rid of bad laws and regulations, and putting in place good laws and regulations to drive sustainable outcomes. Environmental policy is important today across a broad range of issues: air and water pollution, waste disposal, biodiversity protection, land and ocean conservation. It is also critical to addressing the biggest environmental challenge of our lives: climate crisis.
The United States began its experiment with national environmental regulation 50 years ago.
Before 1950, there was...
no major federal legislation controlling the discharge of pollutants into the air and water,
no national regulations covering the disposal of hazardous waste onto land,
no process for reviewing new chemicals, only a limited procedure for registering new pesticides,
no protection for endangered species.
On April 20, 1970, activists and political leaders celebrated Earth Day for the first time, and the United States launched into a new era of environmental protection through political governance. But this era came to an abrupt end in 2016 with the election of Donald Trump. The Trump administration not only turned attention away from the crisis of climate change, it also rolled back existing protections.
The Coming Green New Deal: Restoring U.S. Environmental Policy Leadership
As we move into the 2020 elections, it's important to take stock of where we are when it comes to environmental policy, what's worked and what hasn't, and what changes could lie ahead in 2021, particularly in the area of environmental justice.
That's why we've compiled our latest resource: The Coming Green New Deal: Restoring U.S. Environmental Policy Leadership.
This resource offers a comprehensive look at...
The ways environmental policy has worked to help solve problems in the past
How the Trump administration has been reversing this progress
How a "Green New Deal" in 2021 could fundamentally change the direction of environmental policy and restore U.S. environmental leadership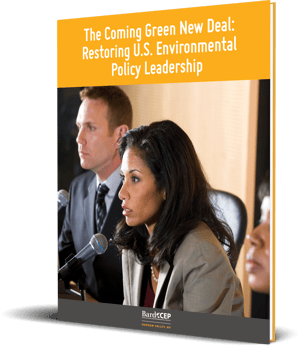 At Bard, we are passionate and hopeful about our collective future, but we know that we need serious leaders who are committed to crafting new, evidence based policy to govern our efforts to save the planet. Now is the time to get educated about the efficacy of environmental policy, both what we've accomplished historically and what we can do together into the future.
Access the guide to explore the importance of U.S. environmental policy in the 21st century.