Social Media for Climate Engagement: A Massive Online Experience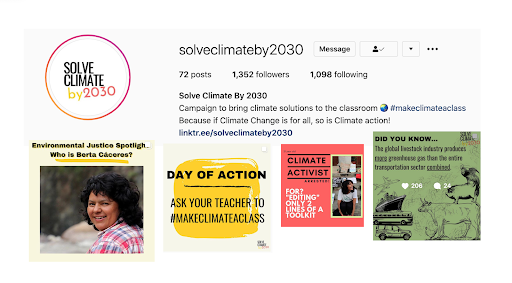 This year, The Center for Environmental Policy at Bard College is hosting a worldwide experiment in project-based learning. Over 200 students from 30 countries are participating in a global internship focused on learning social media skills for climate action. Collectively, the students have created over 30 social media channels—Instagram, Twitter, Facebook and TikTok—under the banner of the Bard project Solve Climate By 2030.
The students gather as a group on Mondays for two-hour sessions, learning the basics of social media, sharing ideas, and developing content. They then devote at least three hours a week to doing social media, either through the global sites, or on regional sub-sites that they have set up. The project facilitator, Masha Zabara, has been amazed at the level of self-organization. "It was incredible to greet hundreds of students at our first Zoom session - from all over the world, in so many different time zones that we had to add another weekly meeting just to accommodate everyone.'' said Zabara.
Within the first week, separate, regional social media teams were already forming, scheduling their own Zoom meetings. "Collectively, these social media sites are exploring various environmental sustainability topics, updating their followers on local climate activism events, and encouraging teachers to introduce climate discussion into their classes," Zabara added.
The campaign goals? First, drive participation at more than 100 university-sponsored webinars across the planet next April that will focus on regional climate solutions. And second, engage students worldwide in asking their teachers to #MakeClimateAClass—a one hour discussion—by screening the regional webinars and discussing them from different disciplinary perspectives.
One example: the Bangladeshi group, with over 30 student participants, has been engaging its followers to learn more about climate change-driven migration, the environmental toll of COVID-19, and deforestation, while also getting them to sign up for the local "Global Dialogs" Bangladesh webinars the week of April 7.
"The internship is a chance for students to learn and apply practical leadership skills for social change in a global context", said Bard CEP Director Dr. Eban Goodstein. "Young people understand their future is at stake, and they are bringing incredible energy in support of this tangible, climate education project, and the movement to #MakeClimateAClass."
The Social Media internship, part of the Solve Climate by 2030 initiative, is a project of the Open Society University Network.