Five Stories of Graduate Students and Their Sustainability Success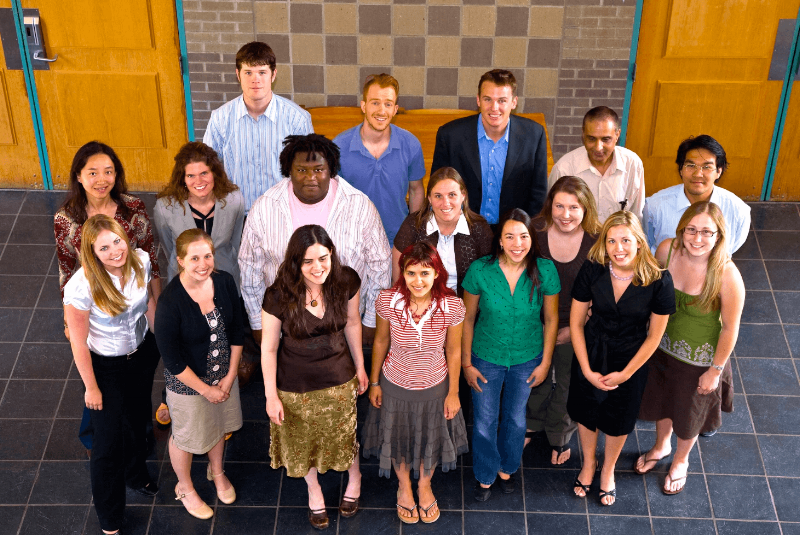 Sometimes, the best way to launch your own career story is to hear about the stories of others—what they dreamed of, what they've been able to achieve, and the steps they took along the way.
Today, we're providing you with some inspiration and motivation in the form of stories of sustainable leadership from alumni of Bard's MBA in Sustainability and Master's in Environmental Policy.
You'll learn about soul-searching gap years, young community farmers fighting for better policy, and ambitious campaigns to advance clean energy.
Read on to hear more about how these alumni leveraged their graduate study at Bard into careers fighting for a sustainable future.
Martin Lemos, Simon Fishweiler, and Mariana Souza, MBA '16.
Martin, Simon and Mariana pioneered our "consulting track" capstone. Building on their first year experience in NYCLab, the team founded a consulting company called Forward Impact complete with website and business cards, recruited clients, and got to work delivering high quality, professional products. Upon graduation, they gifted Forward Impact to the Bard MBA, and since, a number of students have gone on to pursue consulting capstone projects under the logo.
All three landed highly competitive consulting positions: Mariana at KPMG, Martin at BSR, and Simon at the Carbon Disclosure Project.
Brooke Forde, MBA '16
Project Manager, CBRE
Brooke came to Bard with an engineering degree from Hunter and a passion for green building. At Bard, she won a Climate Corps summer fellowship, helping the Goddard Riverside Community Center in New York City develop an energy efficiency strategy. After graduation, Brooke took a program management position at CBRE, the international real estate development firm. In this role, she routinely advises her boss, on how CBRE can incorporate green building and energy efficiency measures into their projects, deliver a better customer experience, reduce greenhouse gasses and other pollution, and… save money.
Nour Shaikh, MBA '16
Vice President, Head of Operational Excellence at ING, North America
Nour entered the Bard MBA after a 10-year career in finance—followed by a soul-searching gap year of world travel and service. Nour used his MBA capstone to transition towards a sustainability career in the finance sector, pursuing an "intrapreneurial" strategy at his workplace, ING. To that end, he networked within the company, joined the green team, and honed his finance sector sustainability expertise. Close to graduation, a position opened up on the ING global sustainability team in Amsterdam, and Nour was all set to apply.
But he had proven himself to valuable, and his boss wouldn't let him go. Instead, ING created a new office of innovation, and Nour is now Vice President, Head of Operational Excellence at ING, North America. There, he "enables the financial sector to better engage and empower its stakeholders and create shared value for all."
Lindsey Lusher Shute
National Young Farmers Coalition, Executive Director and Co-Founder
Shute and her husband run Hearty Roots Community Farm in Germantown, NY. She helped start National Young Farmers Coalition in 2009 after experiencing first-hand obstacles facing young farmers: difficulties securing loans, access to affordable farmland, and student loan debt. NYFC targets the next generation of farmers, typically in their first 10 years of growing.
"Policy is absolutely critical to the future of agriculture," says Shute. "There are the major challenges — access to land, dealing with student debt, capitalizing a farm business, health insurance — but there are many other aspects of policy that impact farmers: food safety, organic standards, farm worker housing, farm worker pay, etc."
Shute, who studied theater as an undergrad, got her M.S. in Environmental Policy at Bard to go deeper into her advocacy and policy work. "The basic skills that I learned at Bard, in terms of evaluating academic writing on science and understanding of economics and law, all of that has been incredibly helpful in my career. I've continued to draw from that in my writing and research. It's also been useful as I've been helping to write actual laws."
Evan Gillespie
Sierra Club, Western Region Deputy Director for Beyond Coal Campaign
The Beyond Coal Campaign's goal is to retire all of the coal and gas plants in the country and replace them with clean energy by 2030. Gillespie directs campaigns across California and the southwest. He guides a team of lawyers, community organizers, press secretaries, policy advocates, and volunteers and works with legislatures, regulators, and a broader ecosystem of energy regulators.
"Bard could not have been a better experience to set me up for this work. It helped me become a more effective critical thinker, and it gave me experience in enough of the areas that I spend time in now, that I can be dangerous, and I can be an effective leader and thought partner with my colleagues.
Here at Bard, we're proud to offer passionate, smart people the chance to hone their skills in consulting, finance, leadership, and much more, all with the goal of a better, more sustainable future in mind.
If you would like to learn more about Bard's MBA in Sustainability visit our digital resource,
The MBA of the Future: What to Look For in a Cutting-Edge Business School.