Bard GPS Publishes JEDI + Anti-Racism Accountability Report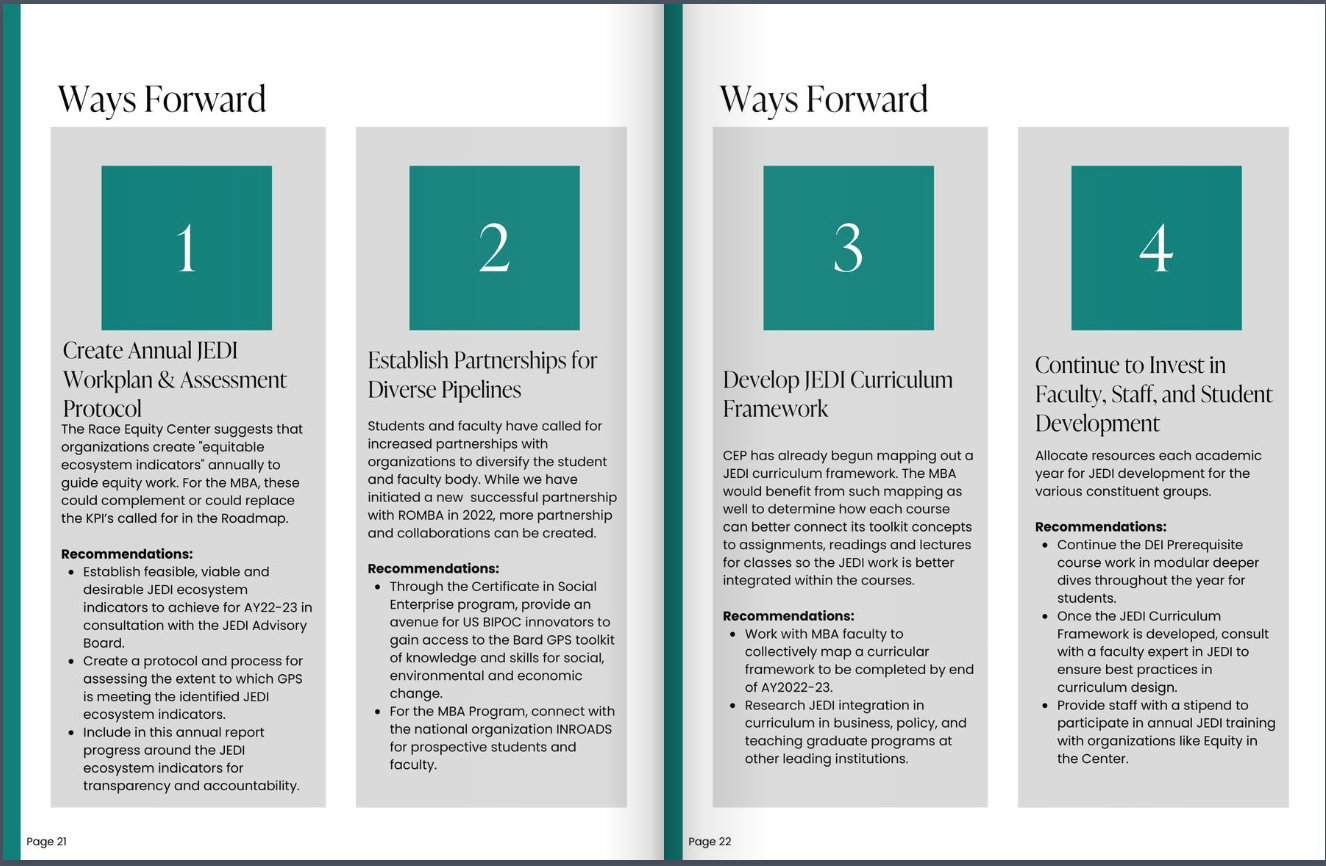 The definition of sustainability at Bard Graduate Programs in Sustainability (GPS) is "Shared Well-Being on a Healthy Planet," giving equal weight to the "E" and "S" in ESG. Two years ago, in response to the national outcry to end America's deeply rooted system of patriarchal white supremacy, the administration of Bard GPS made a programmatic decision to strengthen our focus on the social side, with combating anti-black racism at the tip of that spear in the United States. In March 2021, Bard GPS hired alumni Lauren Hill (MBA '18) and Martin Freeman (MBA '18) to establish the Bard GPS Anti-Racism & Justice, Equity, Diversity, and Inclusion (JEDI) Roadmap. This roadmap now serves as a north star by which the Graduate Programs in Sustainability can programmatically deepen their stated commitment to fostering "shared wellbeing on a healthy planet" from a perspective of racial justice.
As part of the JEDI Roadmap accountability commitments, Bard GPS will publish an annual progress report. The first of these reports, the 2021-2022 JEDI Report, can be viewed below or found here. This first annual report highlights significant progress, and also identifies the work to be done. More information on Bard's JEDI and anti-racism commitments can be found here.
The JEDI Roadmap: A Year in Review Report was written by former Assistant Dean Judy Pryor-Ramirez, MBA Assistant Dean & Faculty in Leadership, with input from the following Bard GPS staff members:
Margo Bogossian, Assistant Director of Enrollment and Marketing

Katie Boyle, Director of Enrollment, Marketing and Partnerships

Cheyenne Dunham, Operations Manager, MBA in Sustainability

Eban Goodstein, Director, Bard Graduate Programs in Sustainability

Ted Griese, Program Associate (former)

Cara Kiewel, NYPA Program Manager

Caroline Ramaley, Associate Director and Faculty, Center for Environmental Policy
We acknowledge the privilege held by the Bard Graduate Programs in Sustainability (GPS) within a private, predominantly white institution (PWI) operating on unceded Munsee, Muhheaconneok, and Lenape land.