"Soy Cientifica"– The Women Scientists Who Are Saving Ecosystems at La Mesita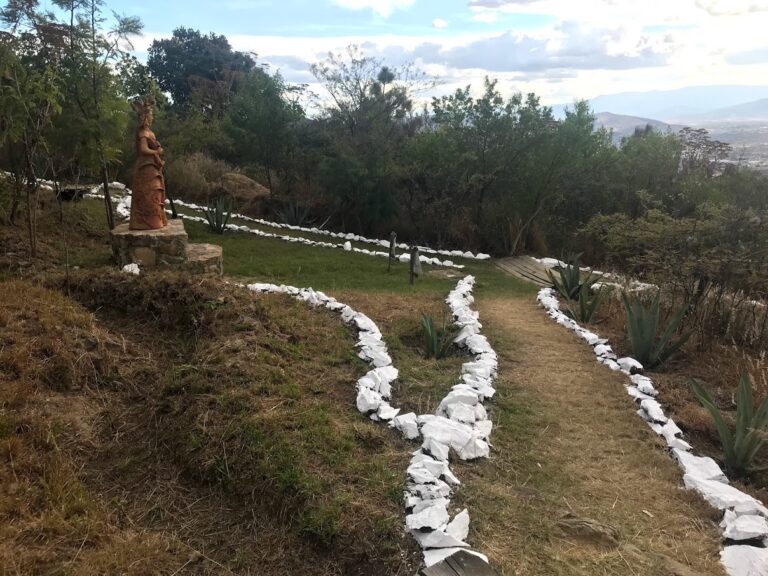 Originally published on The Bard CEP EcoReader.
During the 2019 January term in Oaxaca, Mexico, Bard CEP and MBA students visited various locations devoted to conservation and sustainable development.
Each day was equal parts educational and inspiring, but our visit to La Mesita in San Pablo Etla stood out to me in a particular way. La Mesita, an eco-tourism project, and environmental education center that overlooks the community of San Pablo Etla is cared for by a small staff of maybe four. The restored hillside is abundant with shrubs and agave, giving way to several structures and statues that emphasize a promise to protect the land. While La Mesita offers breathtaking views and is symbolic of a community's commitment to conservation, the two impressive women that addressed us that day deserve special recognition.
Seeing the Landscape and Butterflies with Minerva's Guidance
Our tour was guided by Minerva, a woman primarily responsible for the successful restoration of the biodiversity at La Mesita. Minerva doesn't have an official title, but her extensive knowledge is equivalent to that of a trained ecologist.
As we began up the trail, Minerva told us that 12 years ago, the region looked entirely different, degraded and void of the abundant vegetation currently covering the area now. She led us to the first nursery where native and medicinal plants are grown and cared for until they are ready to be transplanted in the area. Minerva recalled that, when the project was in its infancy, there remained only one juniper. Turning to the rows of saplings, she told us there are now over 7,000 junipers in the region. While answering questions about the relocating process she smiled and sighed "I wish I had more time," expressing how difficult it is to replant everything in the nursery.
"Soy Cientifica:" Alfonsina's Research
Already enamored by Minerva's dedication, we redirected our attention to Alfonsina Arriaga-Jiménez, a Research Scientist focused on the biogeography and ecology of dung beetles in altitudinal gradients. Alfonsina has accompanied Bard students during their trip to Oaxaca for the past 3 years and significantly contributes to the experience with both her lively presence and rich knowledge of montane ecosystems.
Overcoming Obstacles