Sustainability Outlook for Vassar: Five Questions for Sustainability Coordinator Alistair Hall '11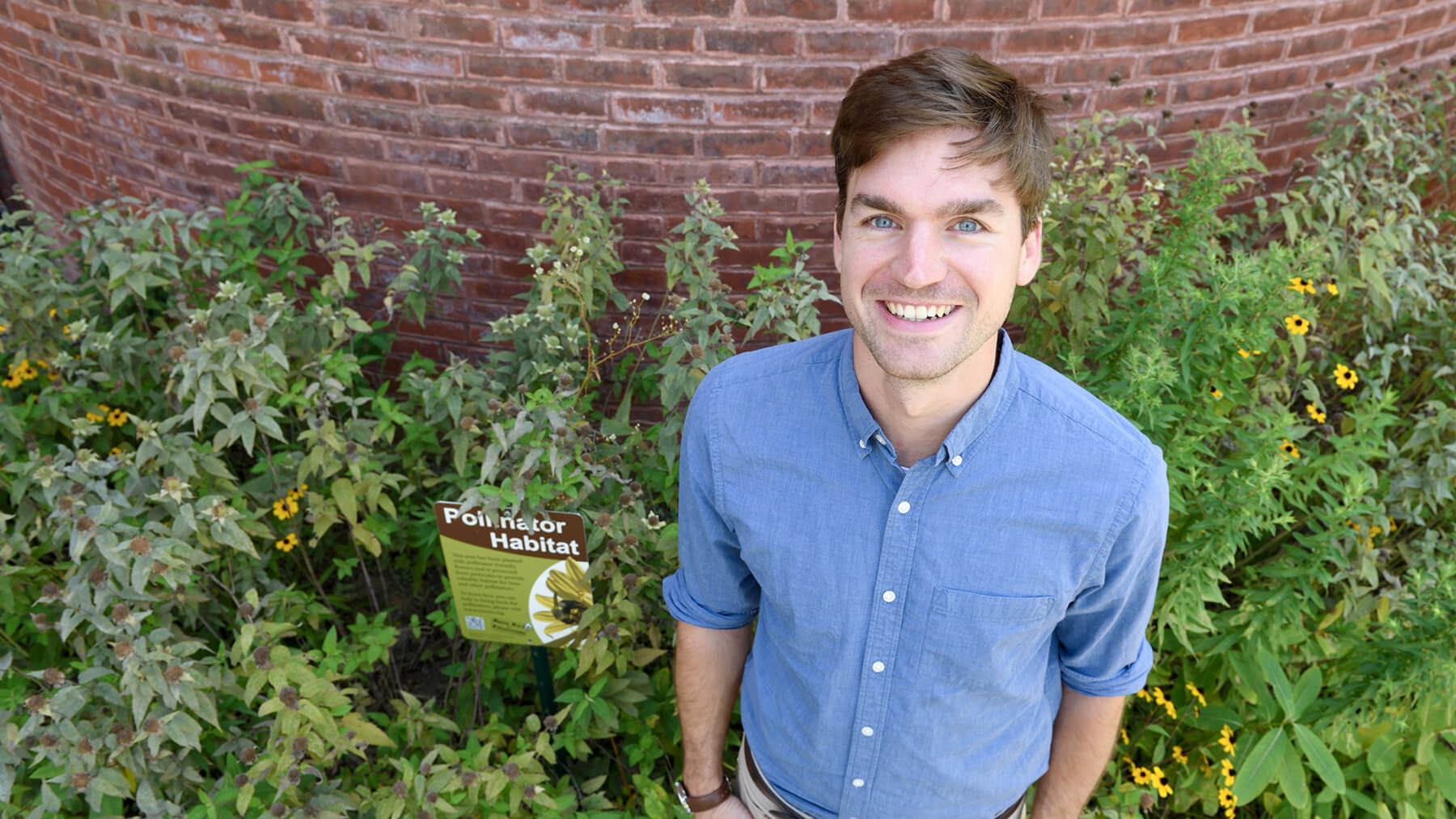 Vassar has a long history of supporting environmental causes, but as evidence of man-made climate change continues to mount, more concrete steps toward sustainability are becoming critical.
How is the college meeting these challenges? Over the past five years, Sustainability Coordinator Alistair Hall '11 has launched and overseen numerous initiatives that are making the campus "greener." As the school year began, Hall outlined some of those initiatives and talked about some of the college's future plans.
An urban studies major at Vassar, Alistair Hall is a 2012 graduate of Green Corps, the Field School for Environmental Organizing. As Sustainability Coordinator, Hall oversees and supports student, staff, and campus efforts to enhance "green" college operations and policies. In 2016, he received the 40under40 award from the Dutchess County Chamber of Commerce for his work supporting local food access and equality through the Poughkeepsie Plenty Food Coalition and for the impact he has made at Vassar. He is currently pursuing his MBA in sustainability management at Bard College and just returned from a leave of absence on the West Coast where he helped develop the sustainability strategy for a cooperative natural foods grocery store.
Q. You've been on the job here for five years now. Tell us where Vassar was on the sustainability curve when you arrived and what advances the college has made since then?
A. When I first arrived, I concentrated on short-term, tactical objectives such as increasing recycling in our dining halls and hosting a year-round farmers market. But about half a year into my time here, I started to look at the bigger picture, and I saw that Vassar had the structure in place to accomplish some larger goals. There was enthusiasm from the students, and it all started to cascade into more long-term projects and initiatives, such as assessing our energy usage. The work continued to progress after we became a full-fledged office in 2015.
Q. Vassar's Climate Action Plan was published in July 2016. How was it developed? What are its goals and objectives and how are we doing hitting some of its benchmarks?
A. We had a plan in place that was completed in 2011, but it was due for an update, given the renewed urgency about climate change. Developing the new plan was a year-long process. We interviewed people involved in this issue at other colleges and universities, and I learned from my peers and colleagues across the country that we needed to instill more urgency. A goal of carbon neutrality by 2050 was too late; if we set 2050 as a goal, we would wait until 2040 to get going, and we can't afford that. So thanks to the work of the Sustainability Committee and several active student groups, we developed a framework for the action plan that calls for carbon neutrality by 2030. What we learned is that this is not a technological problem; it's a question of setting the right priorities and making better decisions. Our plan was approved by the Sustainability Committee, the Master Planning Committee, and President Hill. The issue resonated with the Board of Trustees; it was something both students and alums have been asking for. And after our plan was published, I heard from colleagues at other institutions who wanted to emulate it. Vassar has been a real role model in developing this plan.
Q. The Sustainability Office is staffed in large part by student interns. Tell us about the role students play in crafting ideas for addressing Vassar's energy issues.
A. It's certainly true that there's a never-ending stream of ideas from our students for new projects and initiatives. Bringing solar energy to campus was one idea that is coming to fruition, and it started with a proposal by a student group. They made their case to the administration and then convinced the Board of Trustees that it was worth pursuing. After they made their case to the Buildings and Grounds Committee, we issued requests for proposals to several firms, and there are now tentative plans to put a solar array on the roof of Vassar Barn, or at another location if that one isn't feasible. Watching that project unfold was inspiring; I felt like a proud parent. And I have other 'proud parent' moments when students here find jobs in this field after they graduate.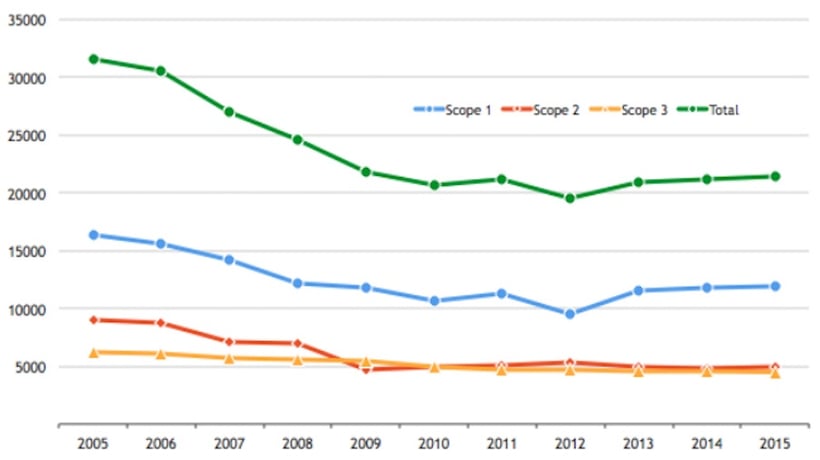 Since 2005, there has been a 33% reduction in the college's carbon footprint thanks to on-going efficiency measures and the transition from fuel oil to natural gas.
Q. What specific activities and initiatives are planned for the current school year?
A. We've received a grant from the New York State Energy Research and Development Authority (NYSERDA) to develop an energy master plan by the end of next year. Our current goal is to reduce energy usage on campus by 20 to 30 percent, and I think that's doable. A hydroelectric plant is currently supplying about 10 percent of our electricity, and there are other renewable energy projects on the horizon. We plan to explore energy savings at our central heating plant, which comprises about 40 percent of our carbon footprint, and we'll look for ways to save energy at our Computer and Information Services Office. In addition, we've launched an energy efficiency survey for our faculty housing.
Q. How does Vassar stack up against other colleges and universities in addressing sustainability issues? What new initiatives do you envision down the road?
A. We're doing what we need to be doing, and we've started collaborating with other colleges. Vassar produced a white paper on carbon pricing (a method of requiring energy users to pay a fee for their direct and indirect use of carbon fuels) in higher education, and that served as a catalyst for some collaborative efforts with Swarthmore, Yale and other colleges. Thirty college presidents have signed a letter endorsing carbon pricing. We've received a lot of positive comments from other schools on our Climate Action Plan, and our Sierra Club "Cool School" ranking is improving. Despite President Trump's decision to withdraw from the Paris climate change accords, I'm optimistic. Many major corporations and cities are moving forward with aggressive sustainability policies. Part of our mission here at Vassar is to ensure that our students are educated about climate change and encouraged to take action, and that's what we're doing.
Are you ready to help lead the change? Download our Career Guide to Jobs in Sustainability: Ideas, Resources, and Opportunities for Career with Impact