Sports Gets in the Game During Climate Week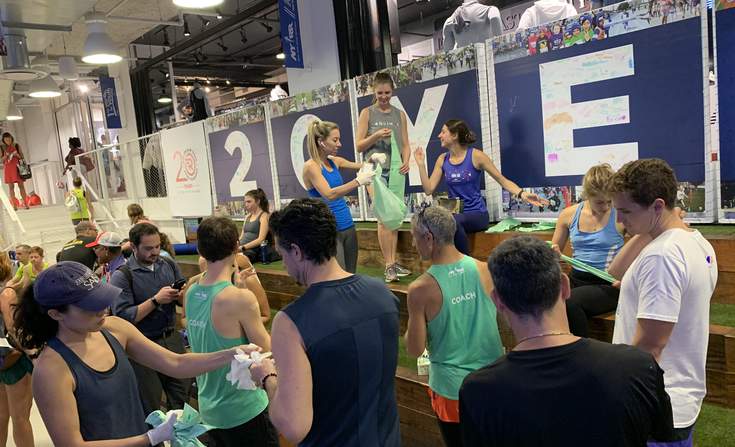 The 11th Climate Week NYC has come to a successful close. An annual convening of events hosted by The Climate Group, an international nonprofit with a mission to accelerate climate action, this was the largest Climate Week in the world; Greta Thunberg led the inspiring youth climate strikes, the United Nations Secretary-General hosted a Climate Action Summit as part of the U.N. General Assembly, and organizations hosted more than 350 official Climate Week NYC events all over New York City.
Many companies, organizations and individuals took part in Climate Week NYC for the first time. The Climate Group received a record number of event submissions, hit 807 million social media impressions (up from 434 million in 2018) and #ClimateWeekNYC trended on Twitter in New York City for the first time.
The sports industry jumped in the game this year with events focused specifically on the intersection of sustainability and sports.
Allen Hershkowitz, co-founder of the Green Sports Alliance and now chairman and founding director of Sport and Sustainability International, moderated "Women, Climate and Sports," a panel discussion that featured an impressive lineup of female sustainability leaders from the National Basketball Association, Major League Soccer and the United States Tennis Association.
When asked why he chose this specific topic, Hershkowitz said, "The U.N. Climate Change Framework promotes a 'gender-responsive climate policy' urging representation of women in all decision-making related to climate policies. The U.N.'s 17 Sustainable Development Goals also focus on promoting gender equality. With this in mind, it is satisfying, fascinating and inspiring to note the influential role played by women promoting sustainability in sports throughout the world. Collectively, women sustainability leaders have changed sports, and in so doing they have broadened the reach and relevance of the environmental movement."
The event highlighted the evolution of environmental improvements each person has made within her organization, including implementing zero waste programs, purchasing carbon offsets with increased social impact, powering games with 100 percent renewable electricity and expanding community engagement initiatives. The panelists also touched on the rate of female representation in sustainability roles within sports, which has the potential to create more opportunities for women to hold leadership roles in a traditionally male-dominated industry.
Lew Blaustein, founder of the GreenSportsBlog, moderated "Playing on Thin Ice: Sports for Climate Action" to highlight the harmful impacts of climate change on winter sports. The "All-Star panel" (his words) included Winston Binch, a board member at Protect Our Winters; Omar Mitchell, vice president of sustainable infrastructure and growth initiatives at the National Hockey League; and Sergey Rybakov, head of the steering committee for The Last Game, a hockey game to be played at the North Pole in April to draw worldwide attention to the climate crisis.
One key takeaway from the event was how drastically climate change is affecting the winter sports industry in particular. Ski slopes are struggling to stay open for enough days to be profitable, in addition to their having to spend money and emissions making so much fake snow. Areas that used to have months of pond hockey are barely freezing over. These obvious and immediate impacts are putting more pressure on winter sports organizations to move much faster on climate action than other sports.
"I felt it was important to bring the potential of sports to make a difference in the climate fight to the Climate Week NYC audience," Blaustein said. "The green sports movement is rarely seen at climate conferences. That has been an opportunity lost, for green sports and the climate change fight. Until now."
Taking a more active approach, the New York Road Runners coordinated "Climate Week NYC Plogging," a group run that combined jogging with picking up trash along the way. More than 25 people participated, each collecting one to two bags of trash in Midtown Manhattan and along the West Side Highway.
Alexandra Criscuolo, the New York Road Runners' first environmental sustainability manager, said, "I was most surprised by the reactions as we ran and picked up garbage. I was expecting questions or questioning looks, but we were instead greeted with 'thank you,' 'great job' and even cheers. People understood what we were doing and were extremely supportive." In this newly created role, Criscuolo will be implementing sustainability initiatives at the organization's events across all five boroughs, including the TCS New York City Marathon and weekly road races. (Editor's note: Tata Consulting Services, aka TCS, sponsors the marathon.)
While the green sports movement is not well known among the broader sustainability community, it is growing quickly and building momentum at a crucial time. A 2018 report by the International Panel on Climate Change found that global greenhouse gas emissions must be cut in half by 2030 and aggressive actions must be taken to achieve net-zero emissions by 2050 in order for there to be a chance of avoiding the worst impacts of a warming planet. The next decade is critical, and new voices are critical.
At COP24 in December, U.N. Climate Change launched the Sports for Climate Action Framework, which now has signatories including the New York Yankees, the International Federation of Association Football and the International Olympic Committee. The framework was created to drive emission reductions of sports operations in line with the Paris Agreement and capitalize on the massive reach of sports to engage millions of global fans.
Just a few days before Climate Week NYC 2019, Nike launched Move to Zero, a brand-new platform to guide the company towards zero carbon and zero waste with the goal to "protect the future of sport."
Sports may seem an unlikely ally in the race to save the planet, but the industry's visibility and influence make it an incredibly powerful asset to inspire immediate and ambitious climate action across industries and around the world.
Originally published for GreenBiz. You can find more news stories about Climate Week NYC 2019 at climateweeknyc.org or on Twitter @ClimateGroup #ClimateWeekNYC.
Get involved with Bard Graduate Programs in Sustainability by attending one of our upcoming events!