Launching: A New Global Certificate in Social Enterprise + Leading Change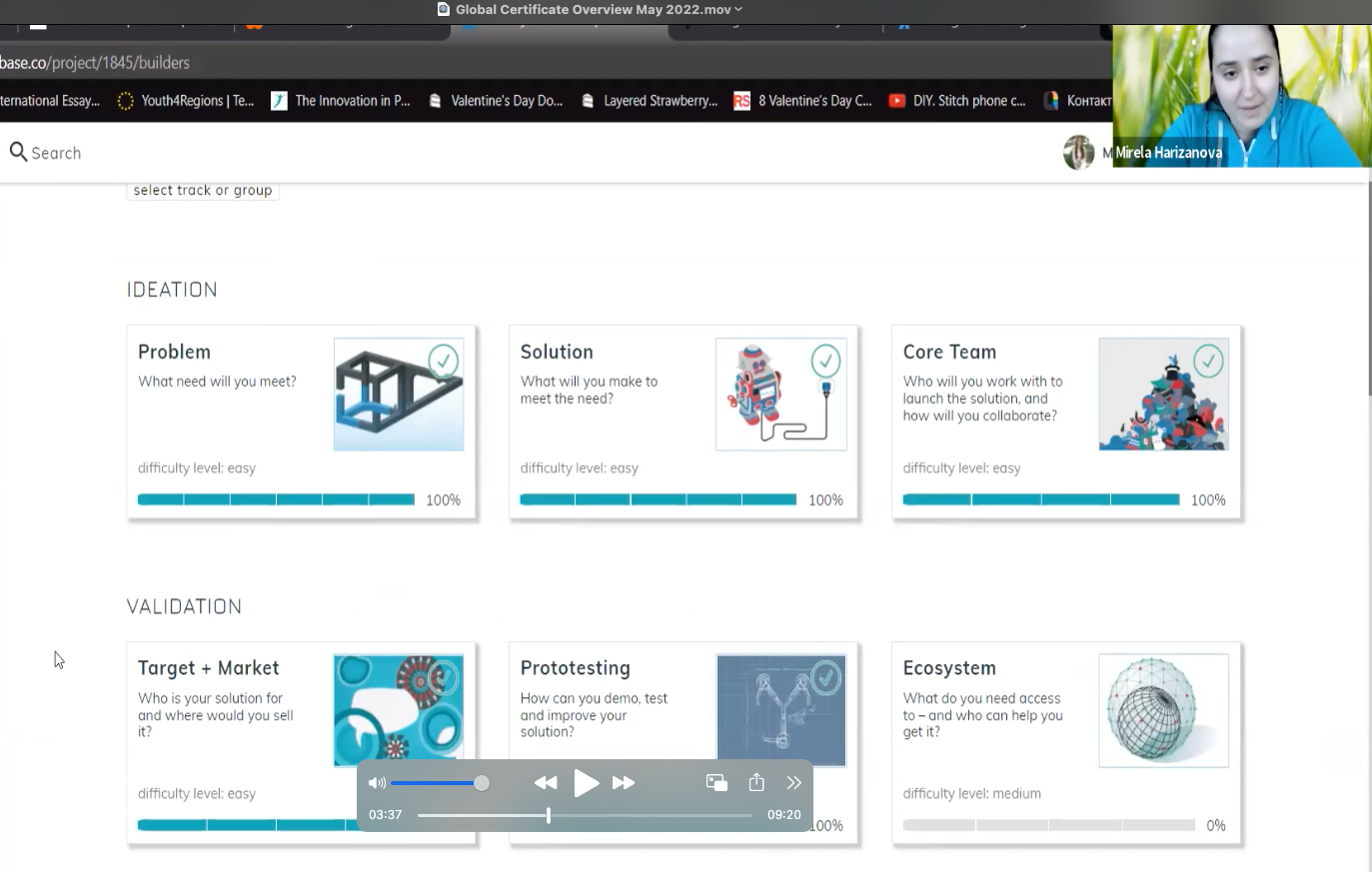 At an in-person (NYC) + virtual conference in April 2023, the Bard MBA in Sustainability will launch a new global certificate program focused on delivering worldwide education for enterprise solutions to the world's most pressing challenges. Since 2020, Bard's MBA in Sustainability has been piloting this approach, combining the scalability of an interactive, synchronous global classroom with high-touch engagement of local co-instructors. At the conference, faculty who are teaching in the program from Palestine, Bangladesh, Bulgaria, Kyrgyzstan, the US and other countries will focus on how to bring the power of the Global Certificate to your local university--- and to tens of thousands of students worldwide.
Bard MBA Director Dr. Eban Goodstein is bullish on the model. "No one else in the world is doing anything like this Certificate. It is the future of effective education for social enterprise".
Mirela Harizonova, a student at the American University of Bulgaria (AUBG) says that the certificate "really tests you to see if you want to create social change through social enterprise". In the video below (click on the blue button) Goodstein, Harizonova, and Certificate faculty from Al Quds University in Palestine, and the European Humanities University (EHU) in Lithuania talk more about the project.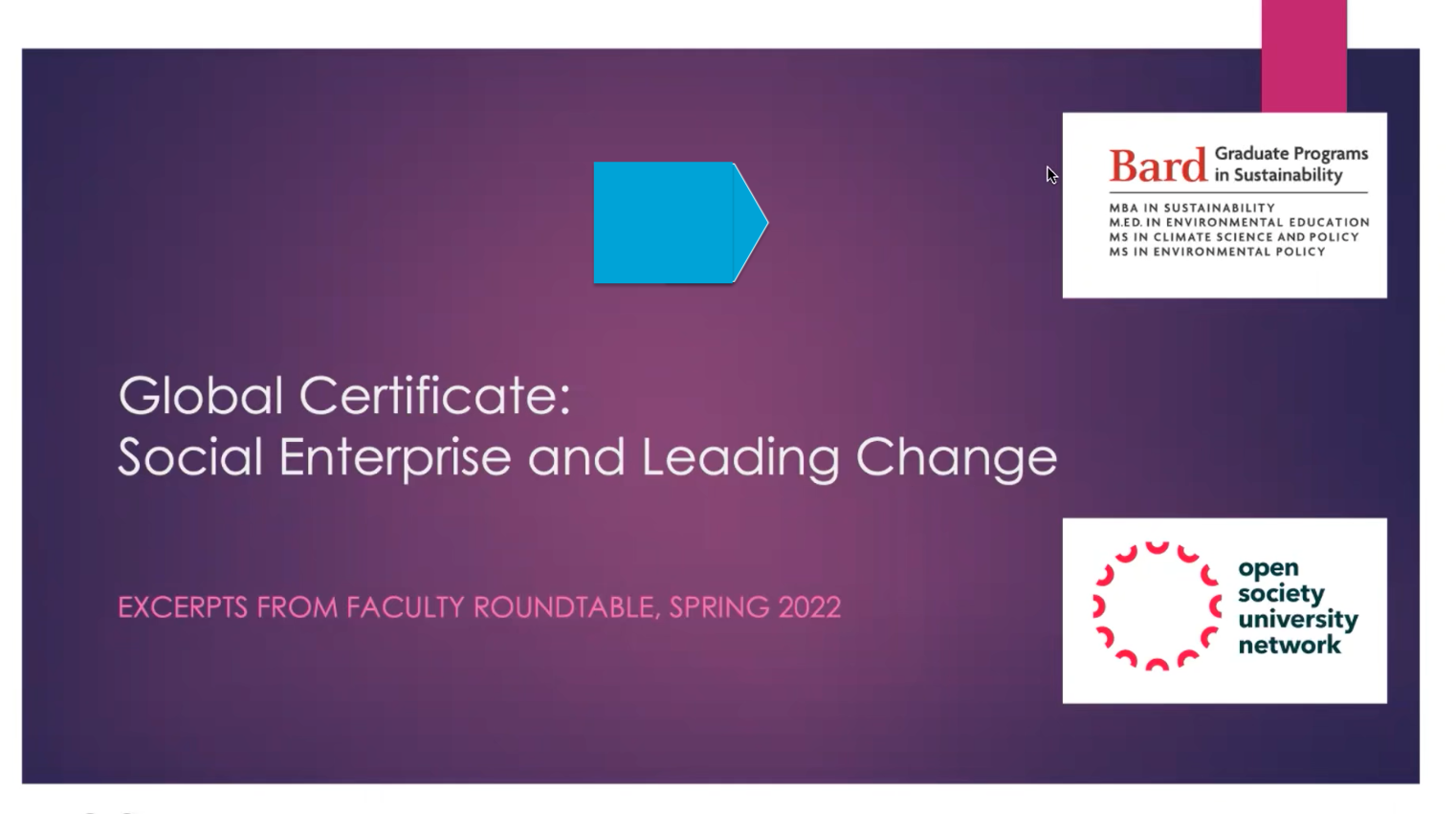 The Certificate adapts three key courses from the Bard MBA for a global audience, graduate or undergraduate: Principles of Sustainable Enterprise; Social Entrepreneurship; and Leading Change in Organizations. While these all began as MBA courses, the Certificate program now provides a minor in social enterprise for all majors—from art and design to zoology. All three courses are centered around project-based learning, supported by close interaction with co-instructor faculty at the participating universities. The global collaboration is powered by RebelBase, an educational software platform built by Bard MBA entrepreneurship faculty member Alejandro Crawford and his team, and recently featured in the Stanford Social Innovation Review.
Students from all over the world meet together once a week in a synchronous zoom class, and also weekly in-person with their local co-instructors to work through the RebelBase modules. To date, in addition to Bard, Al Quds, AUBG and EHU, participating schools include: BRAC University (Bangladesh), American University of Central Asia (Kyrgyzstan), Sun Yat Sen National University (Taiwan), Dongbei University of Finance and Economics (China), and Bard Simon's Rock (USA).
Hunter Lovins, Bard MBA faculty and advisor for Unreasonable will keynote the conference, focusing on the critical role for social enterprise to address challenges ranging from poverty to climate change. Mission-focused businesses already emerging from the Global Certificate include a Bangladeshi solution to early childhood education for low-income families, and an award-winning business in Palestine that repurposes construction waste and used tires to make a paving surface.
The conference is scheduled for Thursday, April 20th, and will be a hybrid New York City event with both in-person and virtual attendance enabled. There is no cost to attend. Pre-register here to stay informed about the event. You can watch the complete dialogue of faculty and student conversation about their experience in the Certificate global entrepreneurship course here.
The Global Certificate is a project of the Graduate Programs in Sustainability at Bard College in New York, including MS and M Ed degrees, and the MBA in Sustainability, ranked the #1 Green MBA in the US by Princeton Review for 2021 and 2022. Support for the project comes from the Open Society University Network.